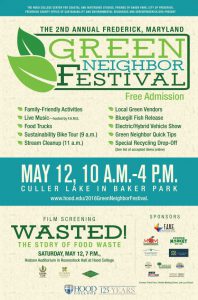 The second annual Green Neighbor Festival will take place May 12 from 10 a.m. to 4 p.m. at Culler Lake in Baker Park, and the schedule of events has been announced.
The festival will highlight sustainable living practices, environmentally friendly activities, and "green" businesses in Frederick County. Families are invited to come out, meet their neighbors and learn how Frederick County residents and business are striving to live and work more sustainably. The first 200 families will receive a free tree from the Frederick County Forestry Board booth.
Hands-on activities and crafts will be offered, and there will be live acoustic music all day sponsored and organized by Frederick Acoustic Music Enterprise. There will be more than 35 local "green" vendors offering information and products promoting environmentally sustainable practices and actions. Full festival website with sponsor information is here
(Read Frederick News Post 4/19/18 article about the event)
Specific events are scheduled as follows:
Main Festival
9 a.m.: A Sustainability Bike Tour will show "green" practices in action around the City of Frederick.
10 a.m.: Festival Opens! VIP Bluegill Release at the Lake dock.
–Family-Friendly Activity Area OPENS  – hosted by Frederick County OSER
-Food Trucks
-Local "green" vendors
-Electric\Hybrid Vehicle Display
10:15 a.m.-3:15 p.m.: Students from area schools will release blue gill fish into the lake.
11 a.m.: Volunteers will help pick up trash along the creek and in the park. Gather at the Festival MeetUp tent prior to 11 a.m.
Music & Speaker Tent
10 a.m. Rick Hill performs
10 a.m. Green Neighbor Tip: Rain Harvesting by Claire Hudson
11 a.m. John DuRant performs
11:45 a.m. Green Neighbor Tip: Vermicomposting by Linda Norris-Waldt
12 p.m. Safe Harbor performs
12:45 p.m. Green Neighbor Tip: Right Tree, Right Place by Jenny Willoughby
1 p.m. The Plants perform
1:45 p.m. Green Neighbor Tip: Green Homes Challenge by Lisa Orr
2 p.m. Toya Marie and Friends perform
2:45 p.m. Green Neighbor Tip: Composting by Phil Westcott
3 p.m. Ony Maybe performs
After the festival, at 7 p.m.: Watch a film screening of "WASTED! The Story of Food Waste" in Hodson Auditorium in Rosenstock Hall at Hood College.  Opening remarks will be made by Ben Friton of Can YA Love & Forested, LLC.  Question & Answer period will occur after the film.  Refreshments will be offered by Hood Environmental Action Team (HEAT).
The festival is free and open to the public. For more information, contact Susan Simonson at simonson@hood.edu or visit the festival main website.
The Green Neighbor Festival Committee consists of the Hood College Center for Coastal and Watershed Studies, Friends of Baker Park, the Frederick County Office of Environmental Sustainability and Environmental Resources, the City of Frederick, and GreenFrederick.org.

"WASTED! The Story of Food Waste"
FREE MOVIE EVENT
Sponsored by Frederick Zero Waste Alliance, Envision Frederick County, Sierra Club – Catoctin Group, and Hood – CCWS
Saturday May 12, 2018, 7 p.m.
Hood College Hodson Auditorium in the Rosenstock Hall
Wasted! The Story of Food Waste aims to change the way people buy, cook, recycle, and eat food. Through the eyes of chef-heroes like Bourdain, Dan Barber, Mario Batali, Massimo Bottura, and Danny Bowien, audiences will see how the world's most influential chefs make the most of every kind of food, transforming what most people consider scraps into incredible dishes that create a more secure food system. Wasted! exposes the criminality of food waste and how it's directly contributing to climate change and shows us how each of us can make small changes – all of them delicious – to solve one of the greatest problems of the 21st century.
Are you ready to say Hello?
Choose a Pathway
Information will vary based on program level. Select a path to find the information you're looking for!