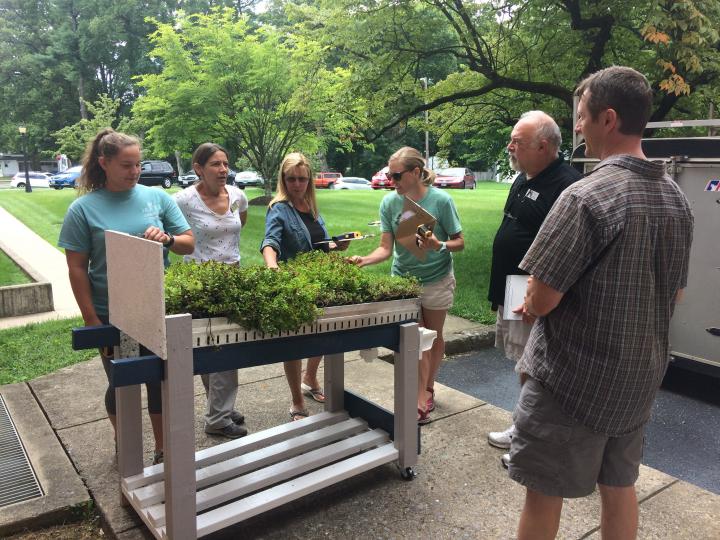 BWET Project STEM: Schoolyard Thermal Evaluation & Mitigation
Schoolyard Urban Heat Studies
Funding: NOAA B-WET (Bay-Watershed Education and Training) Chesapeake grant program, with two 1-year extensions
Project Duration: July 1st 2016 – July 31st 2021
Summary: Project STEM is a unique, transdisciplinary program that engages high school teachers and students from both foundations of technology classes and environmental science or biology classes. The project allows students to investigate their schoolyard and analyze the resulting thermal impact on local streams from the subsequent heating of rainfall as it flows over impervious surfaces. Students will monitor the temperature of stormwater runoff from different land-use types on school grounds and determine the thermal impact on local streams. To aid in this investigation, FoT students will gain hands-on experience building temperature loggers which will be deployed on their school grounds. Science students will interpret the temperature differentials between land-use type and rainfall temperature. In addition, students will have the opportunity to be part of a global data-sharing initiative. Using the GLOBE protocols for temperature measurements, students will upload their data to a global database where people from around the world can access their findings.
The program evolved over the life of the grant incorporating commercial loggers for teacher use and online distance learning lessons during times when face-to-face classroom instruction is not possible.
Additional information on the project can be found on the program page.
Project BOOST: Brookie Science & Technology
Funding: State Farm Youth Advisory Board (YAB)
Project Duration: September 2014 – June 2016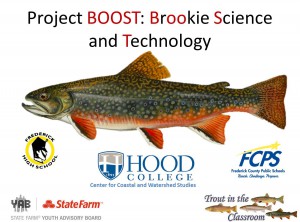 Summary: The Center for Coastal and Watershed Studies (CCWS), Hood College Frederick, MD, was generously awarded funding for Project BOOST, a Service Learning Grant from the State Farm Youth Advisory Board. CCWS is very excited to begin working on Project BOOST: Brookie Science & Technology. CCWS in partnership with Frederick High School, Earth and Space Science Lab, and Hood College faculty, staff and students from the environmental sciences and computer sciences programs will monitor and restore habitat vital to the native char species in Maryland, the Eastern Brook Trout.
Are you ready to say Hello?
Choose a Pathway
Information will vary based on program level. Select a path to find the information you're looking for!