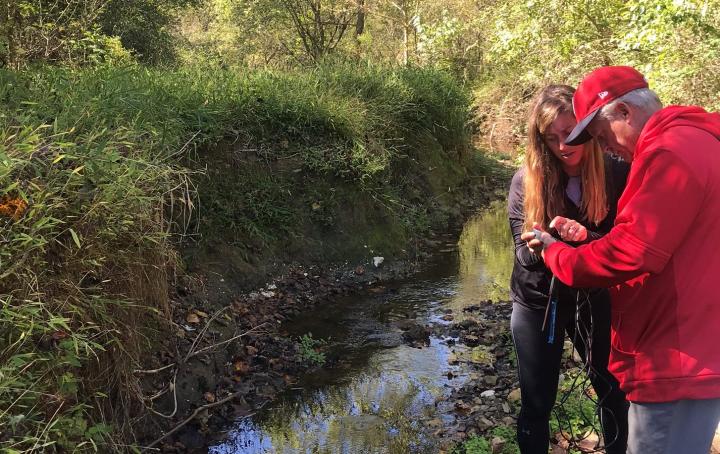 Citizen science involves the participation of a network of volunteers in conducting observations, making measurements and performing analyses of environmental parameters with regard to local environmental issues. Such endeavors often go hand-in-hand with restoration efforts. These volunteers may be Hood students, interested community members or specific stakeholders.
Citizen science programs rely heavily on the expertise of local academic institutions and their faculties to provide leadership and guidance in the experimental design, protocol development and analysis of data generated by such efforts. Through the Citizen Science Initiative, the CCWS, in close partnership with local non-profit environmental organizations and appropriate governmental agencies, participates fully in citizen science endeavors that involve local or regional watershed issues.
Project Examples:
The Hood environmental science and policy program has a history of performing service learning projects for local agencies and organizations, such as Frederick County government (preliminary planning of Utica Park), the National Park Service (environmental impact statement for the Monocacy Battlefield), Frederick City (restoration of the Carroll Creek Wildlife Park and mitigation of nuisance algal blooms in Carroll Creek Park), Frederick County Public Schools (the Monocacy River Monitoring Program) and Maryland Department of Natural Resources (studies of invasive crayfish in the Monocacy river). Students gain valuable authentic learning experiences and the agency or organization obtains valuable information concerning relevant environmental issues. The Citizen Science Initiative will allow these activities to continue and expand, as Hood further builds a reputation as a local resource for addressing environmental problems in a scientifically sophisticated and unbiased manner.
In partnership with Friends of Baker Park, The City of Frederick and Frederick County Office of Sustainability, CCWS has embarked on an assessment, implementation and monitoring project of the Culler Lake Watershed. The project objectives included:
To develop and implement stormwater retrofits that will make tangible improvements to the water quality of Culler Lake.
To quantitatively document the effects of stormwater retrofits (e.g., rain gardens, rain barrels, conversion of impervious surfaces) in an established urban watershed.
Task 1: Retrofit Assessment. The team will perform field assessments of the entire Culler Lake watershed using CWP's Retrofit Reconnaissance Inventory techniques to methodically survey the watershed and determine the most promising locations and practices for stormwater retrofits.
Task 2: Implementation. As funding allows, the team will develop construction plans for top-ranked sites, and construction of the practices will be initiated.
Task 3: Monitoring. Monitoring will be performed concurrently with Tasks 1 and 2. One of the overall goals of this project is to show measurable water quality improvements for the Culler Lake watershed. Monitoring will be a key part of this goal.
Task 4: Outreach. Dissemination of the project and outreach as to how the local community can contribute to water quality improvements.
In partnership with the Home Owners Association of the Lake Linganore community, CCWS staff and students monitored the water quality of Culler Lake. CCWS sampled the water column from surface to bottom to determine the vertical distribution of temperature, dissolved oxygen and light intensity. Surface and bottom samples were also collected for nutrient analysis.
CCWS has supported the citizen scientist studying the stream restoration project Mountainside Education at Bar-T in Frederick County by offering laboratory services to volunteer collected water samples each month.
To learn how Hood-CCWS can assist with your citizen science program, contact us.
Are you ready to say Hello?
Choose a Pathway
Information will vary based on program level. Select a path to find the information you're looking for!