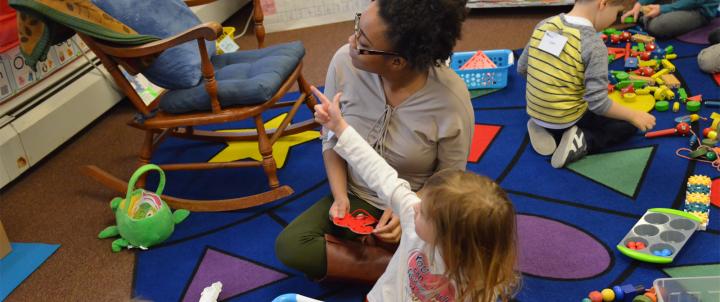 Onica Prall Child Development Lab School
The Onica Prall Child Development Laboratory School offers a fully accredited program through the Maryland State Department of the Education. 
The preschool, operated by the Hood College Department of Education, provides an education for children who are three and four years old. In addition, the school serves as a learning laboratory and field placement site for Hood students pursuing teacher certification in Early Childhood Education. Class sizes remain small, less than 13 children, to insure ample opportunities for teacher interaction and learning for each student. Ideally classes will include an equal proportion of boys and girls. Hood students have opportunities to observe children, curriculum and best teaching practices. Hood College students also develop professional skills while working in the Laboratory School classroom.
Established in 1930 by Onica Prall, a Hood College professor, the Child Development Laboratory School provides education for preschool children from Frederick and surrounding communities, as well as for children whose parents are employed by Hood College. The Laboratory School is a component of Hood's NCATE- and NAEYC-accredited teacher education program. Hood College students continue to study teaching and the development of children by observation and practicum experiences in the preschool.
Onica Prall is open Tuesdays, Wednesdays and Thursdays from 9 a.m. to 11:30 a.m. The school follows Hood College's academic calendar.
Mission and Philosophy
The program is designed to support children's development and classroom research by faculty or supervised college students. The preschool program is based upon a developmental philosophy and a constructivist orientation of teaching and learning. We believe that children learn in different ways and at different rates. Our commitment is to provide educational experiences that are developmentally appropriate for each child and will enhance physical, emotional, social, language and cognitive development.
Constructivist learning requires hands-on engagement with ample opportunities for children to choose their own activities, and a rich language environment to stimulate children's thinking. We recognize the value of educational play as a pathway to learning. Each day the Laboratory School provides a lively mix of art, science, music, numeracy, language and literacy in our indoor and outdoor classrooms. From a constructivist perspective, children are natural scientists and, given the opportunity, will engage in experimentation and problem solving on their own.
Partnerships
We are committed with our community and we have a partnership with:
Contact Us
Phone: 301-696-3416
Are you ready to say Hello?