About this Program
The religion minor acquaints students with the world's major religious traditions and helps students develop a critical understanding of the issues involved in the academic study of religion.
Program Overview
The religion minor gives students the opportunity to explore a variety of religions and issues confronting religion in today's world. It emphasizes the study of the texts, customs, myths and rituals of numerous religious traditions. In addition to the Christian tradition, we offer courses in Islam, Judaism, Chinese Thought and Indian Thought
Program Contact
Fast Fact
College graduates are healthier and more engaged in their communities. They volunteer more and have a higher voting rate.
All Faculty
Professor of Philosophy
Department Chair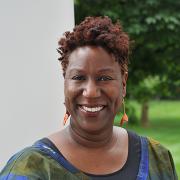 Associate Professor of Political Science
Department Chair
Associate Professor of African American Studies
Virginia E. Lewis Professor of Political Science
Are you ready to say Hello?
Choose a Pathway
Information will vary based on program level. Select a path to find the information you're looking for!