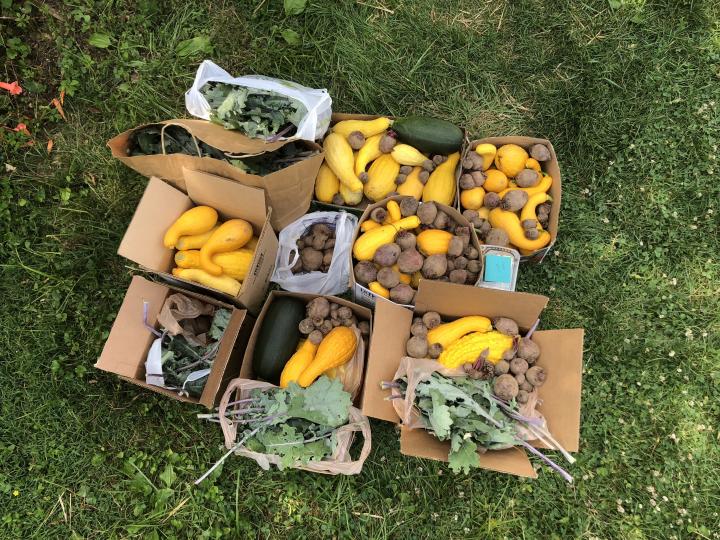 Check out our 2019 annual report!
Community gardens around the city help address food insecurity (Frederick Uncut podcast), Aug. 2019
Community garden receives grant to help save spoiling produce (WDVM), Aug. 2019
Rotary Club's donation of cold storage unit helps Frederick food security group prevent spoilage, Aug. 2019
Rotary Club Grant Provides Cold Storage for Frederick Food Security Network, July 2019
Hood College's Frederick Food Security Network Awarded Grants to Expand Operations, June 2019
Frederick Food Security Network Launches to Fight Food Insecurity (Hood Magazine pg. 25), Spring 2019
Hood College's award-winning Frederick Food Security Network expands, Jan. 2019
Trust Celebrates 2019 Scholarship & Award winners at Annual Legislative Reception, Jan. 2019
Hood College launches new program to help feed local families (WDVM), Jan. 2019
Hood College tackles shrinking food budgets by growing fresh produce, Dec. 2018
'Food for Change' Screening Comes to Hood College, Oct. 2018
Hood College Enactus awarded Unilever grant for environmental impact project, Dec. 2017
Hood addresses food insecurity in the community, Sept. 2017
A better place: Hood College pilots community garden that uses stormwater to grow food, Aug. 2017
Are you ready to say Hello?
Choose a Pathway
Information will vary based on program level. Select a path to find the information you're looking for!