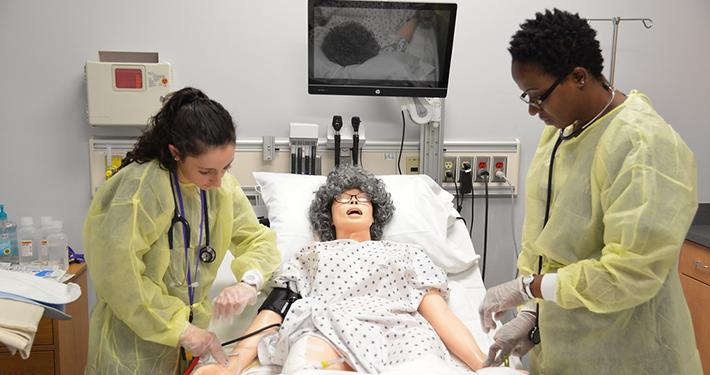 Admission to Bachelor of Science in Nursing program for transfer students is extremely competitive. There is no additional application required for nursing applicants, but students will be reviewed through a two-step process in which they are accepted to Hood College prior to being evaluated for the nursing program. Interested transfer students must apply and be accepted to Hood College before April 1 to be considered for a space in the nursing program, unless an extension has been granted by the student's individual Hood College admission counselor.
The BSN program consists of four levels, each of which takes one year to complete. Qualified transfer students are accepted into either level 1 or level 2, based on the courses that they have earned credit for prior to transferring to Hood College. 
If a student has completed the following courses and the HESI A2 exam, they will be evaluated for admission to level 2 of the program, which requires three full years of study at Hood College:
Anatomy and Physiology I
Anatomy and Physiology II
Chemistry with a lab
Psychology 101
If a student has not completed the above courses, they will be evaluated for admission to level 1 of the program, which requires four full years of study at Hood College.
Students must have a cumulative GPA of at least a 2.75 in all coursework in order to be considered for admission to either level of the nursing program. They must also have no more than 2 repeats in Nursing required courses. To see a full list of courses required for the program, please contact your admission counselor.
For more information about the BSN program, click here.
Are you ready to say Hello?
Choose a Pathway
Information will vary based on program level. Select a path to find the information you're looking for!