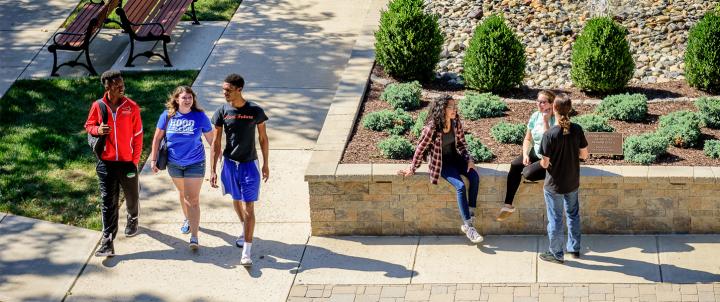 Welcome to the first step of your Hood College journey!
We love helping students and their families through the college search and application process, from the first stages of talking about how a college "fits" to submitting an application, financing your education and deciding which program will help propel you toward your goals.
Our evaluation process is based on looking at each applicant as a whole - we know that you're more than just grades and test scores, and we want to reflect that in our admission process. We encourage students to visit campus and keep in touch with their admission counselors from the time they start looking at colleges until the time that they make their final decisions. We're here to help, and we're excited to be your first Hood Hello!
It's easy to submit your application using either the Common App or the Hood College Application. Both have a $0 application fee! 
Pursuant to Maryland law following the passage of the Maryland Fair Access to Education Act of 2017, Hood College does not use criminal history to disqualify an applicant from admission.
Title IX of the Educational Amendments Act of 1972 (Title IX), Title 20 U.S.C. Sections 1681-1688 create a duty for the reporting of complaints of discrimination, harassment, and sexual assault to responsible college officials by designated employees. The statistics are maintained by the Title IX coordinator and trends are reported to the Title IX and Policy 55 Committee: Prevention and Resolution of Discrimination Harassment and Sexual Misconduct at Hood College. The Title IX and Policy 55 Committee reviews the trends and makes recommendations as appropriate to the Title IX Coordinator and the President of the College. Code of Maryland, Family Law, Title 5-Children, Subtitle 7-Child Abuse and Neglect, Section 5-704 (Md. Code Ann. Fam. Law § 5-701) creates a duty for the reporting of child abuse, child sexual abuse, and/or child neglect through an oral and written report to the local department of social services or, in abuse cases, to the local law enforcement department and the local State's Attorney, not later than 48 hours after the contact, examination, treatment or other circumstances that lead you to believe that the child has been subjected to abuse or neglect.
For more information about the admission process (and to submit your free application to join our community!), please select the appropriate section below.
Are you ready to say Hello?
Choose a Pathway
Information will vary based on program level. Select a path to find the information you're looking for!