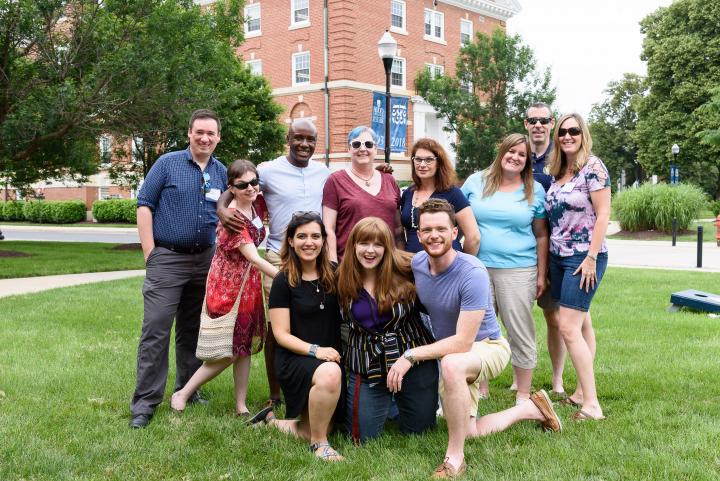 "Halfway down a by-street of one of our New England towns stands a rusty wooden house, with seven acutely peaked gables, facing towards various points of the compass, and a huge, clustered chimney in the midst." – Nathanial Hawthorne, "The House of the Seven Gables"
Join us for a very special Hood College alumni event!
The Hood College office of alumni and constituent engagement invites you to join President Andrea Chapdelaine, Ph.D., for an afternoon reception in the historic seaport of Salem, Massachusetts.
Date: Sunday, September 8, 2019
Time: 2:00 - 4:00p.m.
Place: The House of the Seven Gables
115 Derby Street
Salem, MA 01970
Take this opportunity to spend a day exploring The House of the Seven Gables, learning about the significant history of Salem Harbor, strolling through the colonial revival seaside gardens, and enjoying an afternoon with your fellow alumni as President Chapdelaine updates you on all that is happening at Hood.
Kindly RSVP to the office of Alumni and Constituent Engagement at alumoffice@hood.edu, or 301-696-3700 by Thursday, September 5, 2019.
Ever wonder why Frederick is called "The Most Haunted City in Maryland?"
Wonder no more, for the Office of Alumni and Constituent Engagement has conspired with Maryland Ghost Tours to give Hood College alumni and friends an exclusive tour of some of the most notorious haunts of downtown Frederick.
Hear the spine-tingling story of why Barbara Fritchie still guards her home from invading Confederate soldiers! Discover why former stage hands, actors, and members of the audience refuse to be moved from their seats at Frederick's historic Tivoli Theater! These spooky tales, and many more, remain to be told as we wander the haunted streets of Frederick.
By making a gift of at least $10.00 to the Hood Annual Fund, you will be able to join our private tour, get a 10% off coupon for Brewer's Alley, and will receive a very special memento to remind you of the night you chose to commune with visitors from the beyond!
So, if you dare, join us on Thursday, October 10, 2019, by the light of the waxing moon. The tour lasts approximately 90 minutes, and will begin and end at Brewer's Alley, located at 124 Market Street, in downtown Frederick (you will be notified of your tour start time via email by Wednesday, October 9).
If you're brave enough, kindly RSVP to the office of alumni and constituent engagement at alumoffice@hood.edu, or 301-696-3700 by Tuesday, October 8, 2019.
We hope you can join us, as we shall be quite inconsolable if we do not encounter your corporeal forms in October.
Please note, this tour is not recommended for children younger than 8 years old. For more information regarding the tour, please visit the Maryland Ghost Tours website.
Are you ready to say Hello?