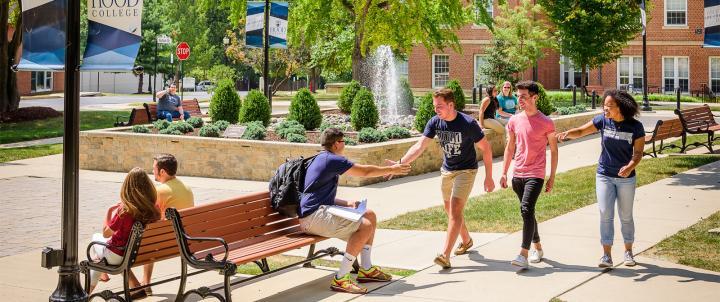 Your personal connection to Hood College as alumni provides unique tools for showcasing the exciting opportunities the College offers future students. The Office of Alumni Relations and the Office of Admission have partnered and are pleased to offer a number of ways to continue strengthening the enrollment of future Hood College classes. If you are interested in representing the College in any or all of the ways detailed below, please let us know by completing the form found here, or by contacting Biz Gorman Gomer '02, MA'08, senior associate director of admission and alumni executive board member, at gomer@hood.edu or 301-696-3406.
Alumni admission volunteers help identify and recruit qualified prospective students for Hood College in the following ways: 
Representing Hood at college fair programs; 
Sharing Hood admission materials at area high schools or home school programs
Joining the Office of Admission on- and off-campus for admission programs for prospective students; and
Assisting the admission team in direct contact initiatives such as emails, phone calls, text messages and social media outreach with admitted students as they make their final college decisions!
And remember that you can refer someone you think would make a great addition to the Hood College student community at any time by completing the referral form found here.
We look forward to helping you share your Hood College story with the next generation of Hood College alumni!
Class Agents
If you are an annual funds donor who would like to inspire philanthropy among your classmates, consider becoming a class agent. Class agents assist the College with fundraising by sending emails, making phone calls and writing letters or notes to classmates. Additionally, class agents may reach out to classmates by setting up class-specific Facebook groups, tweeting, text messaging or using other methods that are likely to resonate with classmates to encourage philanthropic support. As key volunteers, class agents are updated periodically regarding fundraising progress as well as other important news from the College administration. If you are interested in volunteering in this worthwhile capacity, please contact the annual giving office at 301-696-3700, or toll free at 800-707-5280, option 4.
Class Reporters
Interested in volunteering your time to be a class reporter? Some have been at this task for a number of years; others are new to the job. Some stay connected with classmates via mail, phone or email, while others enjoy personal visits and get-togethers. In whatever form you choose to keep in touch with your classmates, we would like to thank you! The columns will appear in the biannual Hood College Magazine. You play a major role in keeping your classmates connected to each other and to Hood, and are invaluable to the success of Hood Magazine. Contact the office of alumni relations and special events at 301-696-3713 or by email at alumoffice@hood.edu if your class needs a reporter.
Are you ready to say Hello?
Choose a Pathway
Information will vary based on program level. Select a path to find the information you're looking for!