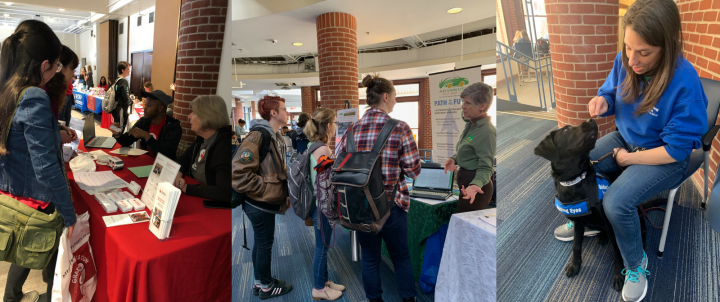 What is civic engagement? The APA (American Psychological Association) defines it as: "individual and collective actions designed to identify and address issues of public concern."
Additionally… "Civic engagement can take many forms, from individual voluntarism to organizational involvement to electoral participation.
It can include efforts to directly address an issue, work with others in a community to solve a problem or interact with the institutions of representative democracy." (APA, 2016)
Hood College & Civic Engagement, it's our mission statement! 
Mission Statement: "Through an integration of the liberal arts and the professions, Hood College provides an education that empowers students to use their hearts, minds and hands to meet personal, professional and global challenges and to lead purposeful lives of responsibility, leadership, service and civic engagement."
Places to Volunteer:
American Red Cross 

Advanced Biofuels USA 

Boys & Girls Club of Frederick County 

Campus Compact Mid-Atlantic 

Community Living, Inc. 

Daybreak Adult Day Services 

Frederick Police Department 

Frederick Rescue Mission 

Girls on the Run Frederick County 

Habitat for Humanity 

Hood College Alternative Breaks 

Interfaith Housing Alliance

Literacy Council of Frederick County, Inc. 

Million Women Mentors

Mission of Mercy 

Peace Corps 

Second Street and Hope 

The ARC of Frederick County 

The Religious Coalition for Emergency Human Needs 

4K for Cancer - Ulman Cancer Fund for Young Adults 

United Way

Wags for Hope 
Why should you participate in civic engagement?
A great résumé builder; makes your skills and accomplishments stand out 

Narrow down your career path- confirm or refute what you may be thinking of pursuing

It encourages: time management skills, teamwork, professional job skills

Reduces stress, helps to create a connection with the community, and proven to be healthier
Some Statistics:
In a survey conducted by United Way of Frederick County:
96 percent of people who volunteered in the last 12 months indicated that it enriched their sense of purpose in life. 

78 percent reported that volunteering lowered their stress levels. 

76 percent say that volunteering has made them feel healthier.
Are you ready to say Hello?
Choose a Pathway
Information will vary based on program level. Select a path to find the information you're looking for!