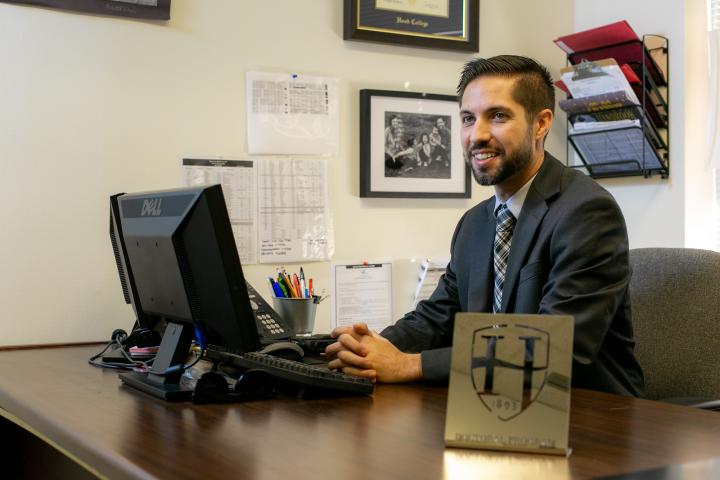 The Catherine Filene Shouse Center for Career Development and Experiential Education
Are you a Hood alumni who is ready to get take that next step?
The Career Center is here for YOU.
As a member of the Hood College alumni community you have at your fingertips a dynamic resource. The Career Center is home to a dedicated staff of career counselors who will assist you in your job search. Whether you're a new graduate looking to utilize your degree by landing that strategic 'first job', or a more seasoned graduate who is ready to make that next big move, the Career Center, and its vast resources are only a connection away.
Here are just a few of the benefits available to Hood alumni at the Career Center:
Are you a Hood alumni who is seeking an amazing candidate or intern for your company?
The Career Center is here for YOU.
Look no further than your alma mater; Hood has the dynamic employee or intern you're looking for.  Whether seeking a graduate assistant, social media manager, or that next great innovator that will help transform your company from good to excellent, we're excited to bring you the next generation of Hood. 
Contact the Career Center today to explore how we can connect you and your business with the right employee. Career Center staff are happy to help you post open positions or to develop internship and short-term project-based micro internship opportunities. Let Hood help you write your company's next success story!
The Career Center is open Monday, Thursday, and Friday from 8:30 a.m. until 5 p.m. and other times by appointment. Schedule an appointment by emailing careers@hood.edu.
The Career Center is located on the second floor of the Apple Resource Center, adjacent to the Whitaker Campus Center. We look forward to helping you make the most of your Hood education and our connections!
Are you ready to say Hello?
Choose a Pathway
Information will vary based on program level. Select a path to find the information you're looking for!