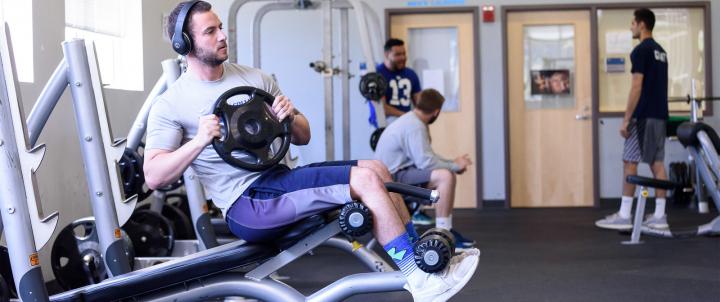 Hood College offers many amenities for commuter students in the Whitaker Campus Center including a Commuter Lounge. The lounge, located on the second floor, provides the following:
Comfortable seats and couches
Quiet study areas
24-hour access
Lockers

Lockers are available for commuter students to reserve for the school year. They are given out on a first-come, first-served basis. To obtain a locker, contact Student Life.

Television
Computers and printer
Kitchen, complete with a microwave, refrigerator, paper goods and plastic utensils
Bulletin Boards
The commuter lounge also has several bulletin boards that contain information about commuter events as well as campus-wide events. The Commuter Council bulletin board has the names and pictures of all the members of the Council.
Campus Phones
Campus phones are located in every office on campus and on the first floor of each residence hall. If a campus directory is not available, dial "0" and the operator will connect you with the person or office you wish to contact. While on campus, dial the last 4 digits of a phone number to call an office or student. Off campus, you must dial the area code and 3-digit exchange (360 for student; 696 for offices). For your convenience, a campus phone is located in the commuter lounge on the second floor of the Whitaker Campus Center.
The following fast food outlets are located within a mile of campus:
Subway - College Park Plaza (901 West 7th Street)
Taco Bell - College Park Plaza (901 West 7th Street)
Starbucks - College Park Plaza (901 West 7th Street)
McDonald's - 1399 West 7th Street
Pizza Hut - 1830 Rosemont Avenue
Sheetz - 1600 Rosemont Avenue
7th Street Sandwich Shop - 903 West 7th Street
Jerry's Subs and Pizza - 1305 West 7th Street
Crisp and Juicy - 1305 West 7th Street
Dunkin' Donuts - 1003 West 7th Street
The full-service post office distributes both campus and U.S. mail. All full-time matriculated students are assigned campus mailboxes. Part-time students are not automatically assigned mailboxes, but are encouraged to request one.
The post office is open Monday through Friday from 10 a.m. to 4 p.m., although some services are unavailable on government holidays. The College distributes important information every day so it is vital that you check your mailbox each time you are on campus. Campus mail is also a useful way to contact faculty, staff and other students.
Every member of the Hood community receives a Hood College student email account. This account provides access to information and services at Hood, including the library.
Many offices use email as a means of communicating with students, so be sure to check your Hood email often. Your Hood email account can also be set to automatically forward correspondence to another email you designate.
Emergency notifications are also sent via email. For more information, see the Emergency Notification System [LINK].
There are 14 outdoor emergency blue light phones on campus, located at:
Whitaker Campus Center parking lot
Behind Alumnae House
South entrance to Coffman Chapel parking lot
Between the athletic field and the athletic complex
North of the aquatic center
North side of the Volpe Athletic Center parking lot
South side of the observatory
South side of Meyran Hall
Northwest corner of Gambrill Gym 
Southwest corner of Gambrill Gym
Between Alumnae Hall and Shriner Hall
Northeast corner of Hodson Science and Technology Center
Northwest corner of Hodson Annex
Northeast corner of Kiln Pavilion 
In addition, each residence hall has a call box at the main entrance as well as red emergency phones on each floor. These are direct phones to the Campus Communications Center, which is monitored 24 hours a day.
Bicycles
A bicycle rack is available for locking and storing bikes outside of the Whitaker Campus Center next to the Whitaker parking lot.
Parking
Vehicles parked on Hood College property must display a vehicle registration tag, which is obtained online through Hood College Self-Service (requires login and password) and available for pickup 24/7 at the Whitaker Campus Center Switchboard. Parking passes are free of charge and are valid for four years.
The Whitaker Campus Center parking lot is designated as a commuter-only lot. Resident students and staff may use it from 10 p.m. to 8 a.m. Parking is provided on a space-available basis and it is recommended that commuters arrive early on campus to find a spot. Parking is also available behind the Chapel and next to the Huntsinger Aquatic Center. See the campus map for details.
Are you ready to say Hello?
Choose a Pathway
Information will vary based on program level. Select a path to find the information you're looking for!