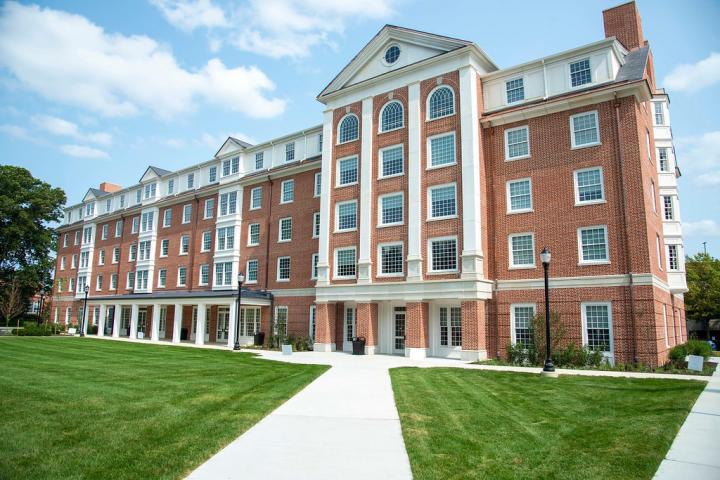 Hood College offers 840 students an exemplary housing experience in a variety of different communities on campus. Each of the six halls offers a unique living environment. 
Please explore the pages for each individual residence hall to learn more about them. 
Residence Halls
Memorial Hall (mixed housing)
Smith Hall (mixed housing)
Coblentz Hall (mixed housing)
Meyran Hall (mixed housing)
Shriner Hall (mixed housing)
New residence hall (upperclass student housing) 
Residence Hall Information
A limited number of singles are available to seniors and some juniors on a space-available basis. 
First-year students and sophomores are required to have roommates; exceptions may be made for older students and students with approved housing accommodations. 
All traditional residence halls have four computers - three PCs and one Mac - available for student use. The New Residence Hall has one PC per floor for students to use. There are many other computer labs on campus, as well. 
All residence halls have snack and soda machines. 
All residence hall rooms are wired for the Internet (wired and wireless access available). Local and campus calls can be made from hallway phones at no charge; students must pay for long distance calls using a calling card.
All residence halls have a large, flat-screen high definition television in the common lounge area, with cable television for groups to watch shows or movies.
All housing areas have on-site laundry machines that are provided at no added cost to the student.  
Fees are available at https://www.hood.edu/tuition-fees
Are you ready to say Hello?
Choose a Pathway
Information will vary based on program level. Select a path to find the information you're looking for!