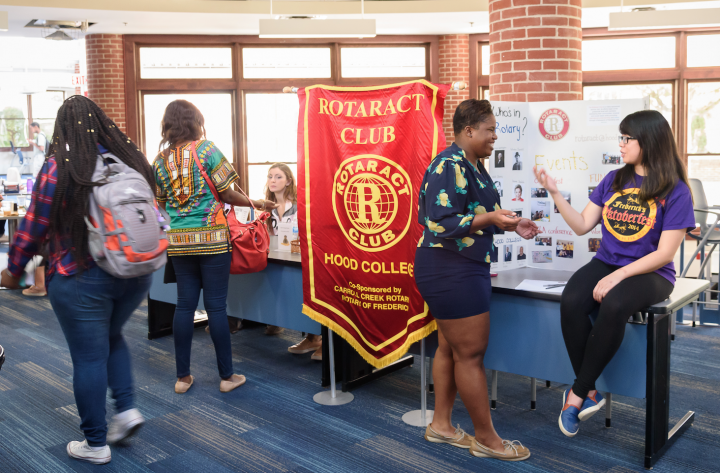 College is about more than books and tests. You'll refer to the next four years as your Hood experience, not just your Hood education. And that's because you're about to embark on life-changing experiences, where what you learn, who you meet and how you live will help define the person you'll become. 
Whether you live on campus or home with your parents, are the captain of an athletic team or the loudest cheerleader, choose to be a part of several organizations or just one, you will find a place to explore your passions and get involved. 
Your experience with student clubs and organizations will help you grow, challenge you and provoke you to think outside the box. 
Student Government Association (SGA)

Campus Activities Board

Class Organizations

Commuter Council

House Forum

Student-Athlete Advisory Committee (SAAC)
Alpha Kappa Delta, sociology majors
Alpha Mu Alpha, integrated marketing communication and business majors 
Alpha Lambda Delta, first-year students 
Beta Beta Beta, biology majors 
Delta Alpha Pi, student with disabilities
Delta Mu Delta, business administration and accounting majors
Gamma Sigma Epsilon, chemistry majors 
Kappa Delta Pi, education majors
Omicron Delta Epsilon, economics majors
Phi Alpha, social work majors 
Phi Alpha Theta, history majors 
Phi Kappa Phi, all majors 
Pi Delta Phi, French majors
Pi Mu Epsilon, mathematics majors
Pi Sigma Alpha, political science majors
Psi Chi, psychology majors
Sigma Delta Pi, Spanish majors
Archaeology Club

Blazing Alpha Fund

Computer Science Club

Enactus

Free Radicals Chemistry Club

Least Squares Math Club

Nursing Club

Philosophy Club

Psychology Club

Student Education Association

Student Social Work Organization
African Student Union

Asian Student Union

Black Student Union

Feminist Student Union

Hillel/Jewish Student Union

International Club

La Comunidad

Muslim Student Association

Queer Student Union
Amnesty International

College Democrats

College Republicans

Hood Environmental Action Team (HEAT)
Circle K

Friendship Club

Habitat for Humanity Campus Chapter

Ionic Society

Mortar Board

Rotaract Club

Student Advancement Committee

Students Helping Honduras

SPURS (Students Providing Understanding Resources)
Belly Dance Club

Dance Ensemble

Hood Chamber Singers

Hood Choir

Hood Early Music Ensemble

Hood College Student Musical Theater

Hood Gospel Ensemble

Hood Improvisation Troupe 

Hood Jazz Ensemble

Hood String Ensemble

Hood Wind Ensemble

Hoodlum Steppers 
Buddhist Meditation Group

Catholic Campus Ministry

Fellowship of Christian Athletes

Hood Secular Humanists

InterVarsity Christian Fellowship

Hillel- Jewish Student Union

Muslim Student Association
Blazer Nation

Book Club

Electronic Music Production and DJing Club

Force Union

Film Club

Latin Dance Club

League of Legends

Maryland Student Legislature

Model United Nations

Ping Pong Club

The BrotherHood

Ultimate Frisbee Club

Veterans Association

Winter Sports Club
Are you ready to say Hello?
Choose a Pathway
Information will vary based on program level. Select a path to find the information you're looking for!