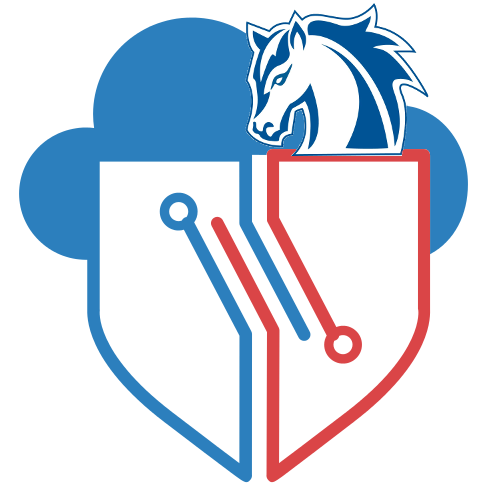 While 2020 may have been an eventful year for everyone, it didn't stop the Cyber Blazers, Hood College's ethical hacking student team, from dominating in the National Cyber League (NCL).
Hood Cyber Blazer Team
Program
Cybersecurity (M.S., C)
Computer Science (M.S.)
Management Information Systems (M.S.)
Information Technology (M.S.)
Department
Computer Science & Information Technology
For those who do not know, this league is a bi-annual cybersecurity competition for high school and college students. This competition consists of defensive and offensive-based challenges that allow participants to identify hackers from forensic data, break into vulnerable websites, recover from ransomware attacks, and much more. The Cyber Blazers dominated the competition during the Fall Cyber League, and were ranked 98th out of 957 teams.
The Cyber Blazers team roster for the National Cyber League consist of students Seth Wilson, Ahmad Abdulmajeed, Khalid Alatawi, Bryan Mathew, Sanket Lange and coach Dr. Carol Jim.

We reached out and spoke with some of the team members who participated in the National Cyber League. Ahmad Abdulmajeed said that the event was very exciting and interesting with the different types of cyber security challenges. Abdul choose to go to Hood College Graduate School because of its great cyber security graduate program and variety of classes it offers. Team member Bryan Matthews stated "the challenges were a lot of fun, and it was more beginner-friendly than I expect. Bryan choose to go to Hood College after serving in the military to stay close to his family, and was interested in the Computer Science graduate program. Finally, we spoke with team member Seth Wilson. Seth has finished in the top 2% of previous competitions and was the only competitor out of 6000+ to answer all the questions in the cryptography section in the most recent individual competition. Seth chose to go to Hood College because he knew the faculty were focused on educating students. 
The  Cyber Blazers are always looking for motivated students who may want to learn and develop cyber skills and problem solving. If you interest learning new skills and challenging yourself please contact please contact Dr. Jim, at jim@hood.edu.

Ready to #GOFURTHER in your career? Learn more about Hood's graduate programs, including Computer Science, Information Technology, Cybersecurity, and Management Information Systems program by clicking here.
 
Are you ready to say Hello?
Choose a Pathway
Information will vary based on program level. Select a path to find the information you're looking for!