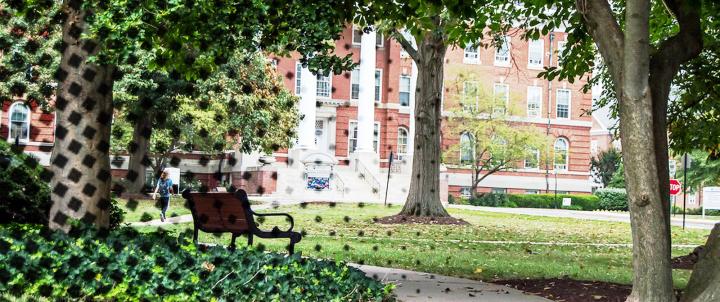 Hood aims to facilitate a positive student experience by encouraging exploration, engagement and leadership through programming and involvement opportunities. 
Code of Conduct
The Hood College Student Code of Conduct has been amended to ensure compliance with COVID-19 protocols and policies, and may be further amended at any time to respond to evolving internal and external factors. These changes to the Code of Conduct presume that students will take responsibility for their behavior and hold their peers accountable for being good citizens. They address behaviors that could negatively impact other community members by increasing their risk of COVID-19 transmission while on campus. All students, prior to arrival on campus, are expected to read and thoroughly familiarize themselves with all COVID-19 polices and procedures.
Student Engagement & Activities
While campus events and activities will take a different format this year, our student engagement staff is excited to roll out new ways to keep students engaged, from virtual events to physically distanced events on the Quad. We are committed to providing programming that encourages a fun and inclusive environment.
Orientation
The final orientation schedule for August 15 and 16 will be released to new students in mid- to -late-July.
Athletics
Hood College, as a member of the Division III Middle Atlantic Conference, will follow MAC guidance regarding participation in intercollegiate competition for fall sports. At this time, the MAC intends to pursue fall athletics competition, with each campus formulating plans for resocialization that will take into account local, state and NCAA guidelines.
Competition will be limited to MAC institutional members beginning no earlier than September 18, 2020, and with the goal of reaching NCAA minimums in all sports. The MAC will continue to prioritize the health and well-being of student-athletes, coaches, campuses and communities, and will continue to evaluate internal and external factors. The MAC will develop protocols for working toward athletics competition with the understanding that there may be future changes and decisions may be revisited.
Are you ready to say Hello?
Choose a Pathway
Information will vary based on program level. Select a path to find the information you're looking for!