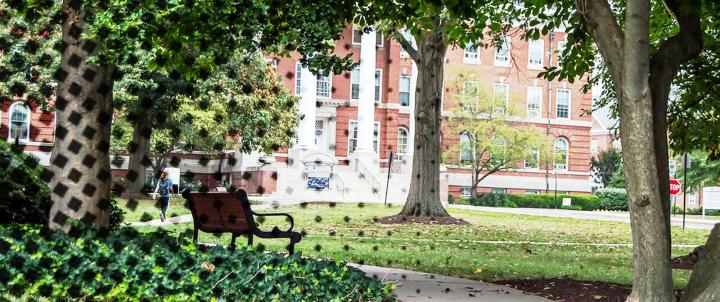 Hood aims to facilitate a positive student experience by encouraging exploration, engagement and leadership through programming and involvement opportunities. 
Code of Conduct
The Hood College Student Code of Conduct has been amended to ensure compliance with COVID-19 protocols and policies, and may be further amended at any time to respond to evolving internal and external factors. These changes to the Code of Conduct presume that students will take responsibility for their behavior and hold their peers accountable for being good citizens. They address behaviors that could negatively impact other community members by increasing their risk of COVID-19 transmission while on campus. All students, prior to arrival on campus, are expected to read and thoroughly familiarize themselves with all COVID-19 polices and procedures.
Student Engagement & Activities
If you are at home or at Hood we have activities happening every week! Student organizations are still hosting their regular meetings and events both in person and online. If events are being held in person, student organizations and the student engagement staff members are making sure to follow not only Hood College's New Horizon Plan but also local and state mandates. Students of all modalities can still be engaged in leadership conferences, speakers, wellness events, paint nights, fill a friend events and more!  
Keep logging into Pergola Connect or on the Corq app to see what events are happening during the semester! If you want to host an event and aren't sure how to make it safe or want to brainstorm ways to include all members of the Hood Community email the Interim Director of Student Engagement Sarah Tansits at tansits@hood.edu. We are committed to providing programming that encourages a fun and inclusive environment while keeping students, faculty and staff safe! 
Athletics
Hood College will opt out of the Middle Atlantic Conference (MAC) men's and women's basketball seasons. This decision was based on the recommendations of the public health experts from the Frederick County Health Department and Frederick Health, as well as the College's COVID Emergency Response Team (CERT) and Board of Trustees. At this time, the plan is for track and field to begin practicing for their outdoor spring season and swimming to compete within the MAC beginning in mid-March. More information about this decision can be found here.
Fitness Center Hours
The fitness center will open on Monday, Feb. 15. All users of the facility will receive a temperature and ID check at the front desk. Entrance to the fitness center will be on the first floor; exit on the second floor from the cardio hour. there will be limited capacity of 12 on the first floor and 15 on the second floor. The facility will be closed for a 15-minute additional cleaning between training times. Entrants have a maximum of 45 minutes to work out.
Student-Athlete Training Time: 6-8:45 a.m.

Physical Education Classes: 9-10:50 a.m. 

Cleaning Time: 11 a.m.-noon

Open Training Time (Students, Faculty/Staff): noon-2:50 p.m. 

Student-Athlete Training Time: 3:05-4:45 p.m.

Open Training Time (Students, Faculty/Staff): 5-8:50 p.m.

 (7:50 p.m. on Fridays) 

Saturday & Sundays: 10 a.m.-3 p.m. (Open to All)
Protocol
Flow plan – Students must enter and exit the facility according to the flow plan. 

Masks – MUST be worn in the fitness center, no mask – no entrance. Must be kept on at ALL times 

Water Fountains – All water fountains are closed off. Users must bring their own water bottle.  

T-shirts, closed-toed shoes, sweats, shorts and yoga pants are appropriate attire – NO CUT OFF 

T-Shirts.  

Sanitation – All users must clean their equipment after every use.  
Anyone not cooperating with a facility requirement will be removed and fitness center privileges will be revoked.
Are you ready to say Hello?
Choose a Pathway
Information will vary based on program level. Select a path to find the information you're looking for!