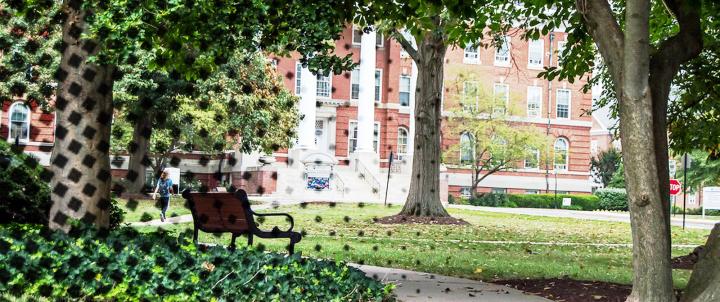 Hood aims to facilitate a positive student experience by encouraging exploration, engagement and leadership through programming and involvement opportunities. 
Code of Conduct
The Hood College Student Code of Conduct has been amended to ensure compliance with COVID-19 protocols and policies, and may be further amended at any time to respond to evolving internal and external factors. These changes to the Code of Conduct presume that students will take responsibility for their behavior and hold their peers accountable for being good citizens. They address behaviors that could negatively impact other community members by increasing their risk of COVID-19 transmission while on campus. All students, prior to arrival on campus, are expected to read and thoroughly familiarize themselves with all COVID-19 polices and procedures.
Student Engagement & Activities
While campus events and activities will take a different format this year, our student engagement staff is excited to roll out new ways to keep students engaged, from virtual events to physically distanced events on the Quad. We are committed to providing programming that encourages a fun and inclusive environment.
Athletics
After careful consideration of internal and external circumstances and with the health and well-being of each campus and community in mind, the Middle Atlantic Conference (MAC) Presidents made the difficult decision to suspend all intercollegiate athletics competition through the fall semester in response to the COVID-19 pandemic. The MAC Presidents are well aware of the important role athletics plays in the lives of student-athletes and are committed to exploring creative approaches and alternatives that will provide future competitive experiences for fall sport student-athletes in the spring semester as circumstances allow. More information about this decision can be found here.
Fitness Center Hours
All users of the facility will receive a temperature and ID check at the front desk. Entrance to the fitness center will be on the first floor; exit on the second floor from the cardio hour. there will be limited capacity of 12 on the first floor and 15 on the second floor. The facility will be closed for a 15-minute additional cleaning between training times. Entrants have a maximum of 45 minutes to work out.
Student-Athlete Training Time: 6-8:45 a.m.

Physical Education Classes: 9-10:50 a.m. 

Cleaning Time: 11 a.m.-noon

Open Training Time (Students, Faculty/Staff): noon-2:50 p.m. 

Student-Athlete Training Time: 3:05-4:45 p.m.

Open Training Time (Students, Faculty/Staff): 5-8:50 p.m.

 (7:50 p.m. on Fridays) 

Saturday & Sundays: 9 a.m.-3 p.m. (Open to All)
Protocol
Flow plan – Students must enter and exit the facility according to the flow plan. 

Masks – MUST be worn in the fitness center, no mask – no entrance. Must be kept on at ALL times 

Water Fountains – All water fountains are closed off. Users must bring their own water bottle.  

T-shirts, closed toed shoes, sweats, shorts and yoga pants are appropriate attire – NO CUT OFF 

T-Shirts.  

Sanitation – All users must clean their equipment after every use.  
Anyone not cooperating with a facility requirement will be removed and fitness center privileges will be revoked.
Are you ready to say Hello?
Choose a Pathway
Information will vary based on program level. Select a path to find the information you're looking for!