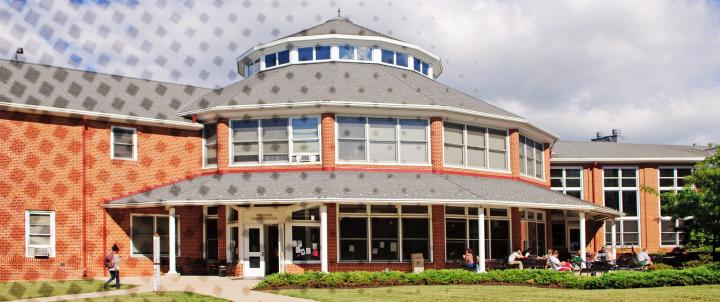 Dining services has introduced new procedures, reimagined serving stations and additional to-go options.
Spring Opening
| | |
| --- | --- |
| JAN 27 | Dining hall open for brunch and dinner |
| JAN 28 | Dining hall regular hours resume |
| FEB 1 | Blazer opens |
The Coblentz Dining Hall and the Blazer is open and observing physical distancing guidelines, decreased capacity, reimagined serving stations, the removal of self-service items and increased to-go options. Tables and chairs have been removed or shifted to ensure for social distancing recommendations. Additional outdoor seating and tents have been installed outside of Whitaker and Coblentz. 
Faculty and staff are requested not to eat in the Dining Hall or pick up food from the Blazer between noon and 1 p.m. to reduce congestion and facilitate social distancing for our students. Faculty and staff may pre-order box meals available for pick up in the lower level of Coblentz Hall.
Dining Hall
All food stations and beverages are served by the dining team and patrons are able to choose to eat in or take out. The food stations continue to offer allergen-free options, comfort foods, pizza, vegan and vegetarian options, grilled items and dessert. Additionally, there is a Grab & Go station with prepackaged items and an option to pre-order boxed meals and pick up in the Coblentz lower level.
The Blazer
All selections are served in disposable to-go containers and directional and floor signage are in place. The meal exchange program has been adjusted to allow for quicker service. 
Health & Safety Protocols
All dining staff wear masks and patrons are expected to wear masks until they get to their seat to dine; they are required to put them back on as they exit the facility.
All dining employees have been trained on new protocols that include wearing and rotating gloves and masks, temperature monitoring, more frequent hand washing and social distancing, even behind service counters. High-touch surfaces are cleaned at a minimum of every 20 minutes. 
The number of required deliveries have been reduced. Drivers are met at the dock and go through a temperature and health screening before being allowed to complete the delivery.
Hello-
Let me start by saying how excited the dining team is to welcome you to the beautiful Hood campus. We can't wait to see your smiling faces (even if those smiles are behind masks)! We know you have a lot of questions surrounding dining services, so let me take a moment to try and answer some.
Coblentz Dining Hall and the Blazer will be open for regular operating hours, which you can view at hood.campusdish.com.
You'll notice some differences – all of which are put in place to protect you:
We've rearranged the dining room tables and have 81 seats in Coblentz Dining Hall.

We have added additional seating outside on the Quad. Enjoy your meal al fresco!

There are directional signs and floor decals set up throughout to define safe social distancing. Please use the floor markers to social distance while in line.

You will have the option to dine in Coblentz Dining Hall or to take food to-go.

There is also a separate grab & go station available in Coblentz Dining Hall to help speed up your service.

Drink cups, napkins, and silverware will all be served to you when you go through the serving line.

 All to-go containers will be held behind the line and given to you by a food server, and all condiments will be individually portioned and served to you.  

There will be no self-service options.
We will also offer a pre-order box breakfast or lunch!
Simply go to hood.campusdish.com and click on the link to place your breakfast or lunch order.

Pre-order meals will be picked up in the Coblentz basement Dreiling Seminar Room.

You will enter through the basement door to pick up your meal. This way you can get you breakfast or lunch in quick fashion.
You can watch this video to see how the Dining Hall is set up and will work.
The Blazer will also have directional signage for placing orders and picking up your meals. Please be aware of these new traffic patterns to keep everyone socially distanced. We are happy to let you know that the Blazer now has an online ordering app. Information on the App will be available at the Blazer and online.
One very important thing to note, and we will need your help with this, facial coverings must be worn at all times in Coblentz Dining Hall and in the Blazer, except when you are seated at a table eating or drinking. You will not be allowed into Coblentz or Blazer if you are not wearing a facial covering.
If you have a special dietary need or food allergies, I ask that you contact me as soon as possible so we can have a quick discussion. I want to be sure dining takes care of any requirements you may have.
This is a lot of information to take in. Please feel free to reach out to me directly at
bragel-john@aramark.com. There will be a manager or supervisor during each meal period to assist you in navigating these changes and to answer any questions to may have. Again, I want to thank you in advance for your patience and understanding as work through these changes together.
I wish you all a happy, healthy and safe semester!
John Bragel
Food Service Director
Are you ready to say Hello?
Choose a Pathway
Information will vary based on program level. Select a path to find the information you're looking for!