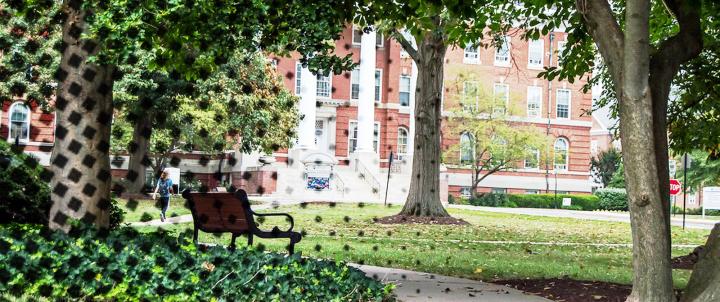 In partnership with Frederick Health and the Frederick County Health Department, we have put together a comprehensive public health plan, including behavioral  guidelines, rearranging campus spaces to ensure social distancing, stringent cleaning protocols, and testing and response to COVID-19.
Masks Required on Campus 
Face masks must be worn by all members of the community in public areas and when in the presence of others. This includes classrooms, public restrooms, open office and common spaces, lobbies, bathrooms, etc. Appropriate use of face masks is critical in minimizing risk for the spread of COVID-19. Hood College will provide one cloth mask, which is washable and reusable.
Hand Washing
Wash your hands often and avoid touching your mouth and face. Hand sanitizer is available in all buildings on campus, but you should carry some with you, as well.
Symptom Monitoring
Each member of the community should monitor their own health and complete a daily health check. Instructions forthcoming. If you do not feel well, do not attend class or report to work. A symptom monitoring app will be rolled out before the start of the semester.
Social Distancing
Physical distance of at least six feet between individuals is critical. 
Testing
The College has developed a robust testing plan in consultation with the Frederick County Department of Health and Frederick Health. Members of the Hood community have also completed the contact tracing certification from Johns Hopkins University and are prepared to begin informal contact tracing ahead of the state health department to mitigate the spread of the virus.
Heart, Mind & Hands Commitment
Hood's Heart, Mind and Hands Pledge is the foundation for a successful and healthy fall semester. We must commit to taking personal responsibility for the health of the Hood community. Students, faculty and staff are expected to abide by the measures we have put in place to protect the health of our community. We are all accountable for compliance and ensuring we are all doing our part.
For a complete list of Behavioral Protocols, visit Your Healthy Habits.
Campus Enforcement
The Department of Campus Safety monitors the campus to protect life and property and promote a conducive learning environment. Campus safety officers are first responders and a visible representative of the College in time of crisis. Campus safety officers respond to any situation to which they are called or when they observe a need to address a safety issue on campus.
Campus safety officers will remind community members to follow College requirements for wearing masks and maintaining social distance. Members of the campus community are encouraged to contact campus safety if anyone is observed not following these policies. Anyone refusing will be asked to leave campus and referred to the appropriate supervisor for disciplinary action, as follows:
Faculty are referred to the provost.
Staff are referred to human resources.
Students are referred to the vice president of student affairs and dean of students.
Visitors who refuse to follow the protocol are asked to leave campus.
Are you ready to say Hello?
Choose a Pathway
Information will vary based on program level. Select a path to find the information you're looking for!