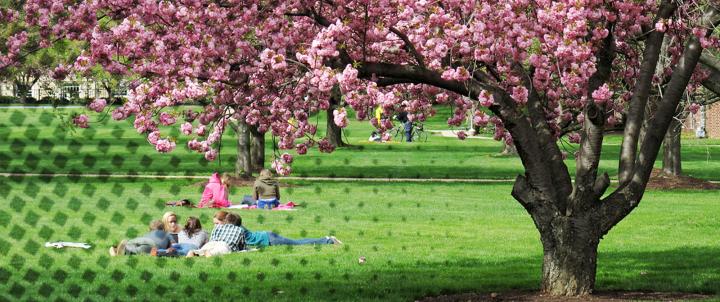 The Hood community will be together on campus for the fall semester in a very different way. We are counting on all of you to do your part to reduce the spread of COVID-19. 
The seriousness of COVID-19 cannot be overstated and sanctions will be imposed on anyone – faculty, staff or student – who is in violation of the protocols we have put in place to mitigate risk. 
For Students
For all students, especially those coming from areas with increasing cases, it is essential to take precautions against possible exposure to COVID-19 at least two weeks in advance of your first day on campus. These safety measures include the behavioral protocols, as well as avoiding large group gatherings (especially indoors) and unnecessary travel. You should also be aware of your state travel guidelines. Students who may have unique challenges returning to campus, please contact residence life at residencelife@hood.edu.
All students will receive a kit containing a digital thermometer, level-one mask, alcohol wipes and hand sanitizer. Kits will be placed in residence hall rooms; commuter and graduate students can pick up their kit at the Welcome Tent on the quad, during the week of August 10.
Students moving into residence halls should not arrive prior to their scheduled time. A sign-up form will be available in late July and the move-in process will follow these safety protocols:
Only two students per floor may sign up to move in for each time slot. Roommates must not sign up at the same time in order to maintain a physical distance. 
You will have one hour to move in belongings. 
You may have up a total of up to four people in your move-in party, including you. 
For everyone's safety, we ask that you wear your own gloves, masks and other protective items. Also, keep at least a six-foot distance from everyone not in your moving party at all times (hallways, stairwells, etc.). To assist with this, each stairwell will be marked one way only (up or down). 
Housekeeping staff will wipe down high-traffic areas and rolling carts in between move-in shifts. 
For Employees 
Staff members who are still telecommuting can begin transitioning to the office in July, with the expectation that all employees will be regularly working on campus by Monday, Aug. 3.
For those faculty and staff members who are at a higher risk for contracting COVID-19 or who have extenuating circumstances and need to request alternative work options, please refer to the Work Accommodation Form.
Are you ready to say Hello?
Choose a Pathway
Information will vary based on program level. Select a path to find the information you're looking for!