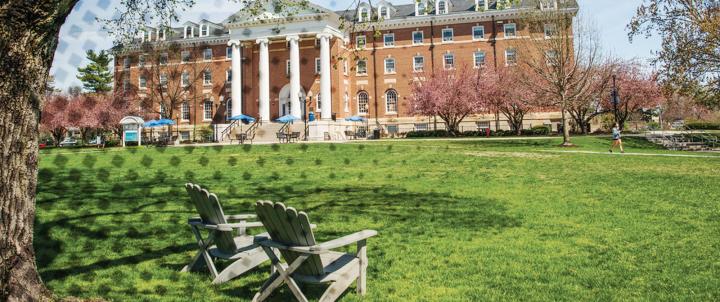 Hood College is dedicated to providing a safe environment for the campus community and minimizing the spread of COVID-19 through the appropriate use of personal protective equipment (PPE), behavioral practices, and frequent disinfecting of surfaces and common areas in buildings and around campus.
In order to help protect Hood employees, student and visitors to campus, the use of relevant PPE is required.
All students, faculty and staff must follow safe behavioral practices—wearing face coverings/masks, handwashing, symptom monitoring and social distancing—and implement several strategies to encourage behaviors that reduce the spread of COVID-19.
The virus is primarily spread by respiratory droplets released when people talk, cough or sneeze, and may spread to hands from a contaminated surface and then to the nose or mouth, causing infection. Therefore, personal prevention practices (such as hand washing, staying at home when sick) and environmental prevention practices (such as cleaning and disinfection) are important principles to teach, promote and encourage at Hood College.
Campus safety officers will remind community members to follow College requirements for wearing face masks and maintaining social distance. Members of the campus community are encouraged to contact campus safety if they are concerned about anyone not adhering to these policies.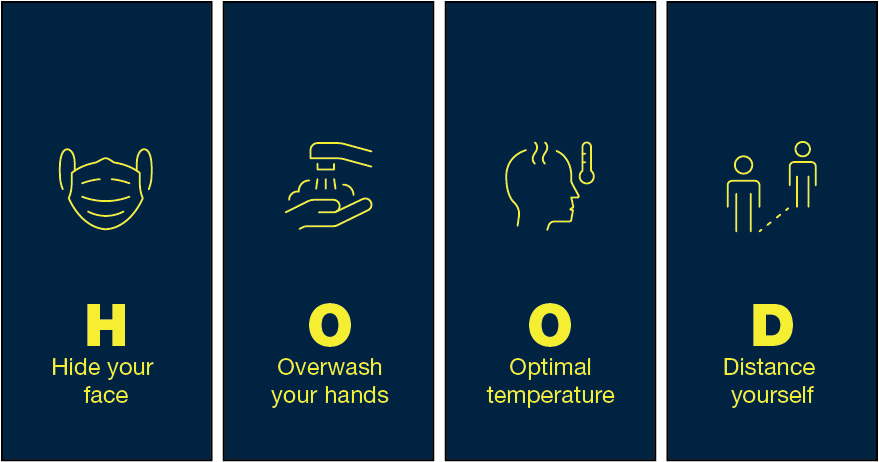 Face coverings/masks (referred to simply as "masks") are primarily worn for the consideration of others and must be worn by all persons on campus when in the presence of others (including classrooms, labs and shared offices) and in public settings (e.g., lounges, common workspaces, hallways, lobbies, bathrooms, etc.). Appropriate use of masks is critical in minimizing risk for the spread of COVID-19. The covering prevents droplets from being projected while talking, coughing, sneezing or yawning onto hard surfaces and into shared breathing spaces. Plexiglass barriers are not a substitute for wearing a mask; masks should still be worn by individuals communicating through installed barriers.
Touching the mask and then other areas of the face risks transmission of whatever is trapped in the cloth. Use hand sanitizer prior to touching the mask; place it over mouth and nose and tie it in place without touching the front of the mask. It should be removed without touching the mouth/nose area. When taking it off, untie and remove it without touching the area covering the nose and mouth, and place it in a storage bag, then wash hands. Reusable masks should be washed with detergent regularly; it is recommended that individuals have a week's supply. Disposable masks should not be used for longer than the recommended period of time indicated by the manufacturer. The College will provide one reusable mask to all employees, two to students. 
Individuals should always cover their mouth and nose when coughing or sneezing. If you are without a mask, use a clean tissue to catch the cough or sneeze and dispose of it in a trash container. Immediately use hand sanitizer or wash your hands, even if you covered your face with your elbow/arm.
For individuals with special risks, such as respiratory, cardiac, renal or immunological compromise, N95 respirator masks are recommended when in the presence of others. N95 masks will not be provided by Hood College.
Individuals with special risks should consult with their physician regarding use of masks.
Students and employees should wash their hands with soap and water for at least 20 seconds as frequently as possible. This is especially important after using the restroom, blowing your nose, and interacting with spaces that include frequently touched items such as door handles and desktops. Do not shake hands or hug.
If soap and water are not readily available, hand sanitizer containing at least 60 percent alcohol may be substituted. Individuals should have a supply of sanitizer to use frequently, as well as that provided at building entries.
Although individuals with COVID-19 do not always exhibit symptoms, the best practice is to monitor signs and symptoms daily. Therefore, all faculty, staff and students are required to complete the College Signs and Symptoms Monitoring Checklist each day using the #CampusClear App before entering classrooms, buildings or offices. 
Any individual who develops symptoms should remain home and contact  Hood College Health Services or your health care provider. Additionally, employees should contact Meg Timmons; undergraduate students, the dean of students; and graduate students, the dean of the Graduate School. 
The College will monitor community members' signs and symptoms for COVID-19, retain and share data as needed while maintaining anonymity, and, to the best of our ability, maintain individual privacy.
Individuals should maintain social distancing using the standard minimum of 6' of separation. This applies to all individuals on campus, including spacing of students in classrooms, labs and residence halls. Only one Individual at a time can use an elevator, unless assistance is required by one of the persons.
Furniture should not be moved or removed from its location to maintain social distancing. Removal of property intended for use by members of the Hood College community is grounds for disciplinary action.
To ease identification of contacts in the event of an infectious incident, faculty will create an assigned seating chart for each of their classes, which will remain in place for the entire semester.
It is important for each visitor and member of our community to recognize that even though the College will take precautions to reduce the risks of COVID-19 on campus, individuals can never be completely shielded from all risk of illness caused by the virus, and everyone in our campus community shares the responsibility for the health of the community.
Take the Pledge
The College has created the Heart, Mind & Hands Pledge for all members of the community to commit to by signing it at the bottom of hood.edu/pledge.
Clean Surfaces
Housekeeping teams, organized by facilities, will clean campus offices, workspaces and common areas. Building occupants are also encouraged to assist in wiping down commonly used surfaces before and after use, such as classroom desks, copiers, printers, computers, shared lab equipment, coffee makers, water coolers, light switches and doorknobs. On a daily basis, employees must keep desks and other surfaces in offices free from clutter in order to allow for deep cleaning.
Where possible, office doors should be propped open to lessen high-touch areas. Employees should use door hangars to indicate if they have been in any offices, classrooms or other areas of buildings.
Anyone who removes cleaning/sanitation supplies, wipes, etc. without permission will be subject to disciplinary action.
Obey Signage
Each campus community member is responsible for following all posted signage and graphics related to health and safety, traffic flow, occupancy limits, etc. Information will be communicated via Hood email and each campus member is expected to carefully read all emails and communications about the College's COVID-19 response. Additional information can be found by emailing covidquestions@hood.edu.
Support Others
Students, faculty and staff are encouraged to assist each other, in a positive and thoughtful way, to comply with the College's procedures and protocols, that are designed to keep everyone safe and healthy.
Get Outside
Fresh air is best. All members of the community are encouraged to get outside for classes, meetings, breaks, etc., while, of course, maintaining social distance and/or wearing masks. Tents may be reserved through Conference and Special Events.
Display Hood College Identification
All faculty, staff and students must carry their Hood College ID (or for employees, wear your name tag) at all times on campus. Failure to do so may result in disciplinary action as indicated in the Student Code of Conduct, the Staff Manual or the Faculty Code.
Help with Contact Tracing
We encourage all employees who are not teleworking to keep a log of their whereabouts on campus – when, where and with whom. This will facilitate contact tracing in the event of a COVID-19 case on campus.
Stay on Campus/Home
All Hood community members are discouraged from non-essential travel.
Are you ready to say Hello?
Choose a Pathway
Information will vary based on program level. Select a path to find the information you're looking for!