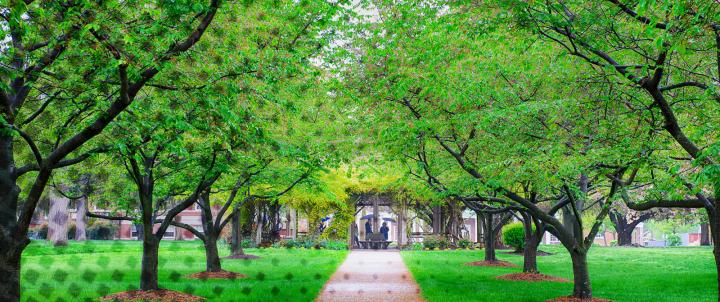 Residence life has created new social norms and policies for living on campus to mitigate risk while still providing a robust on-campus living community.
Visitor Policy
Effective Friday, Feb. 12, residential students are allowed to visitor other residence halls. For details, see the Visitor Policy page.
Use of Residence Hall Spaces
Bedrooms
To promote social distancing in each bedroom, each bed must be positioned at least 6 feet apart and students must position their bodies head to toe when sleeping. Per usual, students are responsible for cleaning their own rooms. Cleaning guidelines and instructions will be posted on the inside of each room door. Roommates are encouraged to wear a face covering during the first 14 days in their room. 
Bathrooms
Facilities is committed to maintaining a clean environment for the Hood College community. Students are required to maintain personal and common space in accordance with safety guidelines. Resident assistants (RAs) will work with residents to develop a shower schedule based on the daily cleaning schedule, the residents' class schedules and time of day preferences.
Laundry Rooms
Each building will have an online sign-up form for blocks of time to do laundry. Students must not linger in the laundry rooms and should take their clothing to their rooms to fold.
Are you ready to say Hello?
Choose a Pathway
Information will vary based on program level. Select a path to find the information you're looking for!