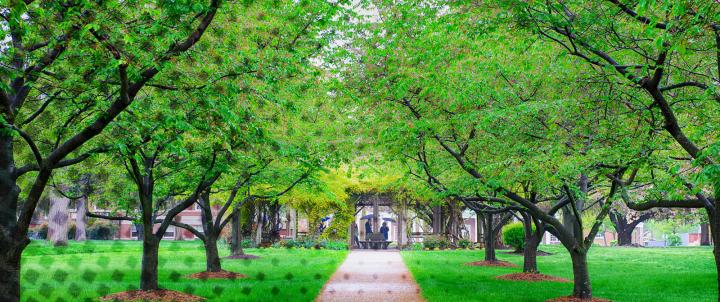 Residence life has created new social norms and policies for living on campus to mitigate risk while still providing a robust on-campus living community.
Residency Status
For the 2020-21 academic year, the College's residency requirement will be relaxed so students can make the choice that is best for them. In addition, we have changed all rooms to either single or double only, and students have the option to request a single room for COVID-19-related concerns via the "fall plan" survey. Single rooms will be granted on a space-available basis. If there are more requests than spaces available, reassignments will be processed based on a review of reasons provided.
On July 24, all residential students will be emailed their housing assignment and roommate information.
Recognizing that the College is imposing some restrictions on room selection in order to mitigate risk due to COVID-19, the following modifications to the standard room rates for the fall 2020 semester have been made:
All rooms in Coblentz, Memorial, Meyran, Shriner and Smith Halls: $3,300

Semi-suites shared room in the new residence hall: $4,000

Semi-suites single room in the new residence hall: $4,300

Suites in the new residence hall: $4,300
Visitor Policy
Though we hope to be able to loosen restrictions at some point, at this time there will be no visitors in the residence halls. Only residents of a room are allowed in their room and only residents of the building are allowed in the building (or authorized Hood employees, e.g., housekeeping, facilities, campus safety, etc.). Visitors to campus are allowed in Whitaker Campus Center or any outside area, following the behavioral protocols. 
Use of Residence Hall Spaces
Bedrooms
To promote social distancing in each bedroom, each bed must be positioned at least 6 feet apart and students must position their bodies head to toe when sleeping. Per usual, students are responsible for cleaning their own rooms. Cleaning guidelines and instructions will be posted on the inside of each room door. Roommates are encouraged to wear a face covering during the first 14 days in their room. 
Bathrooms
Facilities is committed to maintaining a clean environment for the Hood College community. Students are required to maintain personal and common space in accordance with safety guidelines. Resident assistants (RAs) will work with residents to develop a shower schedule based on the daily cleaning schedule, the residents' class schedules and time of day preferences.
Laundry Rooms
Each building will have an online sign-up form for blocks of time to do laundry. Students must not linger in the laundry rooms and should take their clothing to their rooms to fold.
Are you ready to say Hello?
Choose a Pathway
Information will vary based on program level. Select a path to find the information you're looking for!