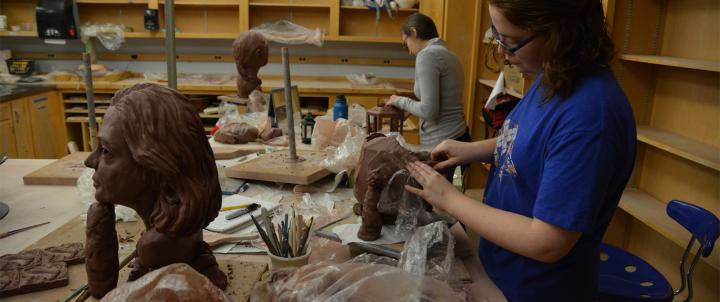 About this Program
Through lectures and critiques, students explore the history of ceramics and the issues and ideas that underpin contemporary work.
Program Overview
Exploring processes, building skills
The program emphasizes universal design principles and development of technical proficiency. Faculty who are themselves accomplished ceramic artists teach techniques, treatments and properties associated with clay, as well as forming, texture, color, surface decoration, glazing, firing and more. Outstanding facilities include a kiln pavilion that has five atmospheric kilns: exploratory research, production soda, large-scale sculpture, hybrid gas/soda/wood, and a Sanderson ECO wood train.Through study and studio work, and hands-on experience with these kilns, students produce a comprehensive body of work.
Career focused
Secondary art teachers find the program ideal for obtaining continuing education credits or adding a ceramic arts focus to their teaching. Working artists and those considering a career in the field — perhaps in a gallery, production, a supply house or as an independent artist — benefit from courses in art management and marketing. The capstone project makes further career connections as students explore and define how their personal aesthetics communicate and connect with people in a way that is professionally viable.
Concentrated format, accelerated completion
Courses are concentrated in a series of intensive weekends throughout the year or in rigorous one-week and two-week sessions during the summer, allowing students to complete the program in as little as a year if they wish. Credits may be applied toward Hood's M.A. or MFA in Ceramic Arts.
The Hood College Graduate School also offers workshops, studio courses and events designed to allow ceramic artists, both experienced and aspiring, to gain specialized knowledge in the field. 
Program Contact
Christian DiGregorio
Director of Graduate Admission
Related Graduate Programs
Are you ready to go further?
Program Requirements and Course Listings
Requirements for the Certificate
The certificate includes 14 credits of required coursework and a minimum of 4 credits of electives for a total of at least 18 credits.
Required (14 credits)
Capstone Courses
| | | |
| --- | --- | --- |
| ARTS 569 | Survival Skills for Visual Artists | 1.0 |
| ARTS 570 | Seminar in Personal Studio Research | 3.0 |
Electives (minimum 4 credits)
The 18 credits required to earn the Graduate Certificate in Ceramic Arts can be completed in one year.
For students applying to the Certificate in Ceramic Arts program, please submit the following to the Graduate School:
One copy of official transcripts from each institution of higher education attended
An essay (500 words or less) discussing previous academic and personal experiences with clay, current work and professional goals in relation to the certificate
A portfolio on CD with 300 dpi digital images to include

12 images of current work
A corresponding image list stating title of work, medium, size and dates of completion
An artist statement about the portfolio work addressing concept, objectives and process
Résumé
Our advisory board...
provides support and assistance in the development of new programs, serves as ambassadors for our program and identifies best practice standards.
All Faculty