About this Program
Through lectures and critiques, students explore the history of ceramics and the issues and ideas that underpin contemporary work.
Program Overview
Academic training with practical application 
Coursework provides firm grounding in the science of glazes, clay body development and firing theory. Through practical application of this understanding, students take their work to the exhibition level.  Additionally, they acquire meaningful insights regarding teaching ceramic arts as well as managing a successful career as an artist.
Learn from renowned ceramic artists and professors 
Faculty members are accomplished ceramic artists and well-known specialists in areas such as East Asian coil techniques, structural strength, wheel techniques, large-scale stoneware and porcelain, ceramic engineering, wood firing, exhibition development and public art. Special course topics taught by renowned guest artists add another dimension of experience and research. Outstanding facilities include a kiln pavilion that has five atmospheric kilns: exploratory research, production soda, large-scale sculpture, hybrid gas/soda/wood, and Sanderson ECO wood train.Through study and studio work, and hands-on experience with these kilns, students produce a comprehensive body of work.
Flexible schedule 
A variety of class formats accommodates working adults and long-distance commuters: evenings; weekends; and four-day, one-week and two-week intensive courses. Students can complete the program in two calendar years with full-time study or more when attending part-time. Course credits may be applied toward Hood's MFA in Ceramic Arts.
The Hood College Graduate School also offers workshops, studio courses and events designed to allow ceramic artists, both experienced and aspiring, to gain specialized knowledge in the field. 
Program Contact
Christian DiGregorio
Director of Graduate Admission
Related Graduate Programs
Are you ready to go further?
For students applying to the MA in Ceramic Arts program, please submit the following to the Graduate School:
One copy of official transcripts from each institution of higher education attended
An essay (500 words or less) discussing previous academic and personal experience with clay, current work and professional goals in relation to the degree
Two letters of recommendation from individuals familiar with recent work (letters can be emailed to gofurther@hood.edu)
A portfolio on CD with 300dpi digital images to include

20 images of current work
A corresponding image list stating title of work, medium, size and dates of completion
An artist statement about the portfolio work addressing concept, objectives and process
Résumé.
Core Courses - 17 Credits
Wheel
| | | |
| --- | --- | --- |
| ARTS 505 | Ceramic Wheel: Masters' Throwing Concepts | 2.0 |
| ARTS 512 | Eastern & Western Tech in Trimming | 1.0 |
Sculpture
Skills and Aesthetics
Science and Technical
Firing
Art History, Aesthetics and Criticism Courses - 6 Credits
Capstone Courses - 4 Credits
| | | |
| --- | --- | --- |
| ARTS 569 | Survival Skills for Visual Artists | 1.0 |
| ARTS 570 | Seminar in Personal Studio Research | 3.0 |
Practicum and Written Exam
Ceramic Art Electives - 9 Credits
Wheel
Handbuilding and Sculpture
Kiln Technology
Special Topics Courses
Our advisory board...
provides support and assistance in the development of new programs, serves as ambassadors for our program and identifies best practice standards.
All Faculty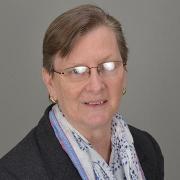 Professor of Art
Program Director, Master's in Ceramic Arts/Fine Arts and Ceramics Certificate