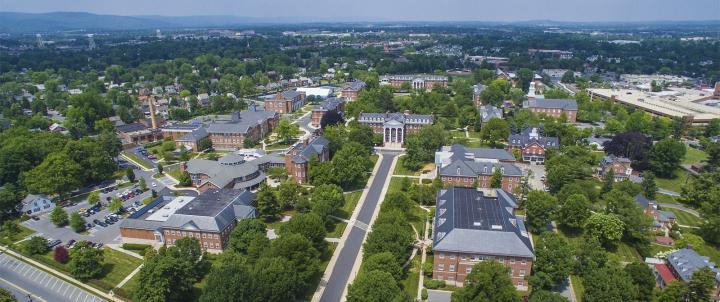 The Graduate School provides several opportunities for prospective students to meet with faculty and staff to learn how Hood's graduate programs prepare students to go further in their lives, in their careers and in their communities. Once enrolled, new students are invited to orientations that introduce them to the campus, student amenities and faculty.
Individual visits
The Graduate School staff is available to meet with individuals to discuss educational plans and options. Schedule an appointment or email us at GradSchoolRSVP@Hood.edu. The Graduate School is located on the 3rd floor of the Apple Resource Center, which is adjacent to the Whitaker Campus Center. You can view the campus map to locate these lots.
Parking on campus
Three campus parking lots are reserved for visitors: Whitaker Campus Center, Hodson Drive and Chapel. Visitors who are on campus for an open house or an appointment and plan to park in one of these lots, should print out the visitor parking pass and display it in their front windshield. You can view the campus map to locate these lots.
Admission Café Virtual Open House
Nov. 6, 12:15 p.m.-12:45 p.m.
Hood College hosts a series of Admission Cafés—live, free virtual open house events—for our Graduate School degree offerings.
These online sessions enable prospective students to learn about the Hood College Graduate School and specific programs of interest—conveniently from home or work during their lunch hour.
Each webinar will provide an opportunity to engage directly with our admissions team and will include a brief presentation. Topics will include key areas such as program structure, curriculum goals, career advancement and more. From STEM degrees to MBA and education programs, are you ready to Go Further with a graduate degree from Hood College?  
Speed Mentoring Event
Nov. 6, 6 p.m.
The speed mentoring event is co-sponsored by the Greater Maryland chapter of Graduate Women in Science (GWIS). Attendees can explore new ways to grow their network and optimize their career savvy. In addition to speed mentoring sessions, keynote speakers will include: "Optimizing your LinkedIn Profile" with Kyle LeBlanc, founder of Resumoxie, and "Interview Secrets" with Lisa Littlefield, director of Hood's career center.
Are you ready to go further?