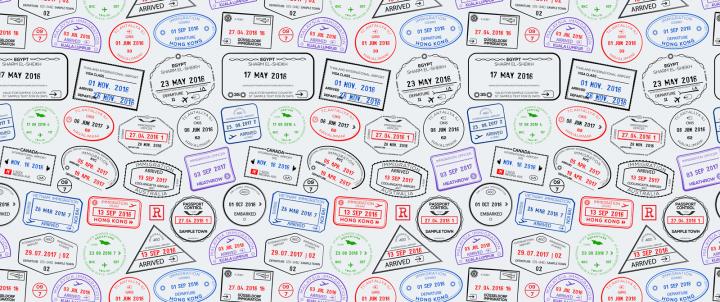 Applying For a New F-1 Student Visa
If you are not a U.S. citizen, a U.S. permanent resident, or hold other legal status, you need an F-1 student visa to study in the United States. Visas are issued by United States embassies and consulates not Hood College. You cannot be issued an I-20 until after you have been accepted to Hood College and complete the proper paperwork. 
The I-20 Application page will explain the process of acquiring your I-20 from Hood College. 
Once you schedule your visa interview appointment, remember that you must bring the following documents to present to the consular officer:
A consular officer will interview you to determine whether you qualify for a student visa. The officer may request additional documents, which you may bring to your interview, such as evidence of:
Your academic preparation, which may include transcripts, diplomas, degrees, or certificates from schools you attended and standardized test scores required by your U.S. school,
Your intent to depart the United States upon completion of your program of study,
Demonstrate you have access to *$32,000 per academic year to support your studies, live, and travel. If you require a dependent F-2 visa, please certify an additional $7,500 for each dependent such as a spouse or child. Please refer to the documentation requirements if an I-20 for your F-2 dependent is needed. *Please note: F1 doctoral admits will need to show $54,000, and F1 counseling admits will need to show $42,000. Dependent rate ($7,500) is the same, regardless of degree.
When you receive the SEVIS (Student and Exchange Visitor Information System) I-20 form you will sign Line 11 on Page 1, then take all three pages of Form I-20 to the U.S. Embassy or Consulate nearest you to apply for an F-1 student visa. Since you may need to provide certification of financial support when applying for a student visa we recommend that you obtain duplicate certifications of all financial documents.
If your visa is approved, you will receive an F-1 stamp in your passport. Some U.S. Embassies will place your I-20 in a sealed envelope and staple it to your passport. It is recommended that you do not open this envelope. The immigration officer at the U.S. port-of-entry will open the envelope and check your documents when you arrive. Check your visa for errors, such as your date of birth or before you leave the U.S. Embassy or Consulate.
You may not enter the U.S. on your F-1 visa more than 30 days prior to the report date on your I-20.
Upon entry into the U.S., a Customs and Border Protection Officer (CBPO) will create an electronic I-94 record of the non-immigrant arrival. The CBPO will also provide an admission stamp directly in the passport which will be annotated with the date of admission, class of admission and admitted until date. It is very important to keep the original I-20 with you during your travels as the CBPO may ask to see it upon your arrival to the United States.
For more information
Ted Oh, Primary Designated School Official (PDSO) at oh@hood.edu or 001-401-696-3811
Are you ready to go further?