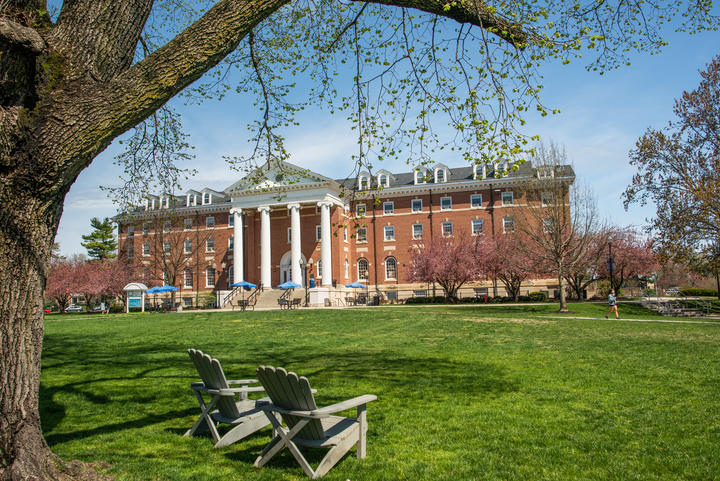 Graduate On-Campus Housing
The Graduate School, in partnership with the office of Residence Life, looks forward to making your graduate living arrangements as comfortable and supportive as possible.
Living on campus is a great way to meet graduate students from around the globe. It's also a great way to learn and grow outside of labs and classrooms. When you live on the Hood College campus, you'll have the opportunity to expand your network, connect with the broader campus community, make long-lasting friendships and develop the skills essential for a successful career.
On-campus graduate housing is available on a limited-basis (first-come, first-served). We offer our houses close to campus on Rosemont Avenue as well as a graduate-student wing on the 2nd floor of Coblentz Hall where you will feel at home amongst other mature graduate students. Accommodation is available for students with documented special needs.
General Information
Hood College graduate-student houses are located adjacent to campus on Rosemont Avenue, which is a short walk to all the academic buildings and a local bus station. The houses meet the needs of the graduate-student community and feature single bedroom units with shared spaces such as the kitchen, bathroom and a communal living area.
Coblentz Hall is a multipurpose on-campus facility that offers a dining hall, a seminar room and a forth floor with single rooms available to graduate students.
Be a part of our diverse, vibrant graduate-student community and make lasting connections! You'll have opportunities to get involved in Hood's residential community, as well as campus activities. On-campus rental costs include utilities such as electricity, heat and hot water. Internet access is also included, and all our residence halls offer high speed Wifi.
Eligibility
A student applying for graduate housing must be registered for graduate classes for fall 2023 and plan to continue their graduate studies throughout the spring 2024 semester. At this time, we offer 10-month contracts only, not single semester contracts. Students starting their degree in the winter or spring terms are not eligible for on-campus housing. Rooms are equipped to host students only. Parents, spouses, partners and children are not allowed to live in on-campus, graduate accommodations.
International Graduate Students: your F1 visa must be approved by the U.S. government before on-campus housing is guaranteed at Hood College. 
Hood College Undergraduate Students: 4PLUS, ALTY Scholars and Athletes are all welcome to apply for on-campus housing during your graduate degree, but you must be registered for fall courses before your accommodation can be guaranteed.
Please note: a non-refundable housing deposit of $500 will be required before on-campus housing is guaranteed, which will be applied toward your overall bill.
Applying for Graduate On-Campus Housing
STEP 2: Register for at least one fall course.

STEP 3: Receive

preliminary approval from the Graduate School or be added to our waitlist

STEP 4: Submit the non-refundable $500 Graduate-Housing Deposit through the online payment form. Once approved for housing, you must remit payment within five business days, or your housing assignment will be given to the next grad student on the waitlist.

STEP 5: Get ready to move in on August 1st or later!
Navigating Campus
The grad-student housing contract is for 10 months: August 1, 2023 - May 31, 2024, regardless of whether a grad student moves in late or out early.
Cost is priced per semester at $3990, which can be paid in full each semester or via one of four payment plans (see below).
Payment Plans:
The 5-month payment plan = $798/month
The 4-month payment plan = $998/month
The 3-month payment plan = $1,330/month
August through May, graduate students may remain on campus during the holidays and College closures for no additional charge. Additional summer accommodations for June and July are also available, but there is an additional fee for those approved for summer housing.
There are different options that you can choose to purchase when living on-campus:
All Access Meal Plan costs $3,400 per semester and includes 100 flex dollars for the semester and 5 meal exchanges per week at The Blazer. The All Access meal plan allows students unlimited entrance to the Coblentz Dining Hall throughout the day while open. Students can stop by for a snack, a meal or just to visit friends whenever and as often as they like.
The 10 Meal Plan costs $3,050 per semester and includes 200 flex dollars for the semester and 3 meal exchanges per week at The Blazer.
The Commuter meal plan costs $940 per semester and includes 50 block (meals per semester), $400 in flex dollars for the semester, and unlimited meal exchanges. Only residents in the leased duplexes off campus may waive a meal plan or select a Commuter Meal Plan, and must indicate this on their specialized application.
Flex Dollars - you can add as much money as you want in your card and spend it at the Coblentz Dining Hall or the Blazer. You will get a discount when you enter more than $100 in your card. 
For information about Hood College meal plans, contact Mr. John Bragel, Director of Food Services at Bragel-John@aramark.com
Linens, including pillows, blankets, a mattress cover and sheets, towels and washcloths.

Laundry basket or bag

Laundry detergent

Toiletries

Shower shoes

School supplies

Personal items
Candles

Flammable fluids

Fireworks

Air conditioner

Ceiling fan

Waterbeds

Halogen lamps

Pets

Extension Cords
Are you ready to go further?