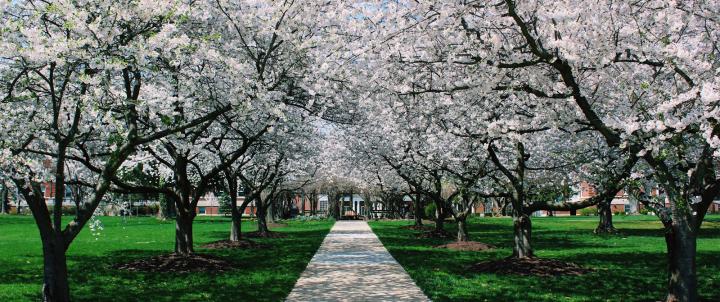 The Graduate School at Hood College offers a great education with affordable tuition and a number of ways to pay for graduate coursework. 
Employer Payment Plans
Many employers offer education reimbursement programs that may pay for some or all of an employee's tuition. Information about those programs is generally available through employer's Human Resources office.
Hood College has also developed special payment plans with two school districts.
Teachers and staff in the Frederick County Public Schools (FCPS) may be eligible for the Direct Payment Tuition Plan.
Teachers in the Montgomery County Public Schools (MCPS) Hood pursuing the Educational Leadership cohort program may take advantage of the special MCPS Plan. 
More information regarding both plans can be found below.
Graduate and Teaching Assistantships 
Hood College offers a number of graduate and teaching assistantships (GAs and TAs, respectively) that provide tuition and/or stipends in exchange for teaching, research, coaching or other assistance. Such assistantships provide full or partial tuition remission and are available in academics, athletics and student life. More information regarding Graduate Assistantships can be found below. 
Scholarships
The Association of Medical Diagnostics Manufacturers Scholarship The AMDM provides annual scholarships in the area of Regulatory Compliance for Hood College students. The funds are intended to assist students in need of financial support for their education and to contribute to the quality of future regulatory affairs professionals. 
The Biomedical Science Alumni Graduate Scholarship Established in 2019 by Ann L. Boyd, professor of biology, and supported by alumni of the biomedical science program, the scholarship shall be awarded annually to a graduate student enrolled in the program who works full-time, has completed at least 12 credits of coursework, and has a minimum GPA of 3.3, to assist with the cost of two academic classes per year.
The Ceramic Arts & Technology Graduate Scholarship Established in 2013 by ceramics instructor Philip Berneburg, the scholarship fund shall be used to assist with student costs associated with taking graduate-level ceramic arts classes.
The CHCI-United Health Foundation (UHF) Scholar-Intern Program This external scholarship is applicable to Hood Counseling graduate students interested in becoming primary care mental health professionals.
The Community Foundation of Frederick County is committed to helping students who are pursuing a post-secondary education. Some scholarships are available to those enrolled or planning to enroll in graduate programs. To be considered for Community Foundation scholarships, applicants must complete the online application. Applications are generally due during the month of March each year. Visit their site for exact deadlines and requirements
The Ifeoluwa O. Popoola M.S.'16 Scholarship Established in 2017 by Ifeoluwa O. Popoola M.S.'16, the scholarship is awarded annually to an international graduate student who exhibits academic excellence and financial need, and is enrolled full-time in the computer science and information technology graduate program.
Hodson Trust Scholarships for Children of Former Beneficial Employees Children of former full-time Beneficial employees, with two or more years of service with Beneficial Corporation and its subsidiaries immediately prior to June 30, 1998 are potential candidates for these full-tuition scholarships for undergraduate and graduate study at Hood College. All scholarship recipients must be enrolled on a full-time basis
The Philip Renauld II M.S.'83 Scholarship Established in 2016 by Philip S. Renaud II M.S.'83, the scholarship shall be awarded annually to undergraduate students with financial need majoring in business administration or accounting, and to graduate students with financial need in the Master of Business Administration program.
The Sally Oros Graduate Counseling-Thanatology Scholarship Established in 2019, Hood College shall award a $690 scholarship each semester (fall and spring) to cover one course credit for a female graduate student enrolled in either the Counseling (clinical or school) graduate program, or pursuing a graduate certificate in Thanatology. The student must have a 3.3 or higher Hood GPA, and the scholarship may be awarded to a different student each academic year.
Dr. Mary F. Kearney '96 and Dr. Ann L. Boyd STEM Scholarship is awarded to a female graduate student who exhibits academic excellence and financial need; and is enrolled in a STEM related graduate program
Students residing in Maryland may be eligible for state awarded scholarships
Sallie Mae offers a free Graduate School Scholarships search service
External Grants
Federal Loans
To apply for a Federal Direct Unsubsidized Graduate Loan (up to $20,500 maximum eligibility):
You may also choose to apply for a Private Alternative Education Loan.
* For more information about financing your graduate studies, please contact Yvette Rood, Hood College Office of Financial Aid.
Are you ready to say Hello?
Choose a Pathway
Information will vary based on program level. Select a path to find the information you're looking for!