Alcohol & Substance Abuse
As a college student, your brain is your most important asset. 1 in 4 college students say alcohol interferes with academic performance. Alcohol and drug abuse can jeopardize your productivity and learning, your overall health and your social relationships. You can take care of your health, wellbeing and academic success by using substances in moderation or not at all.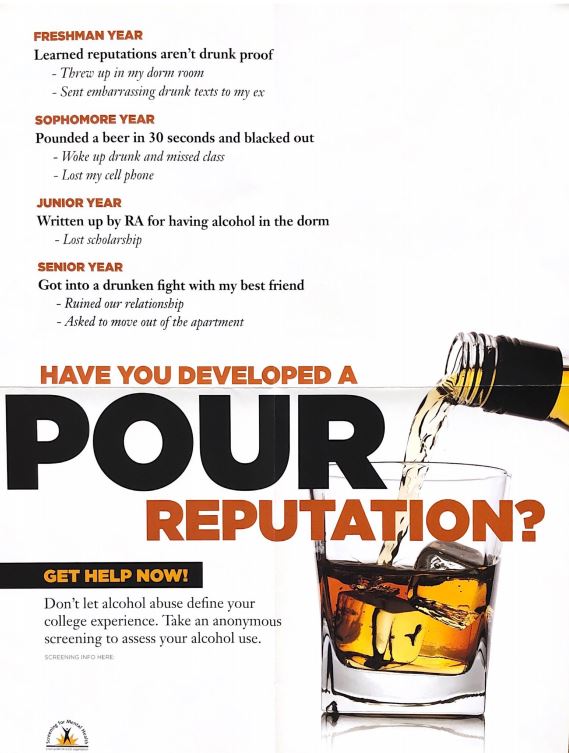 Drinking alcohol is associated with:
Loss of muscle control, poor coordination and slurred speech
Fatigue, nausea and headache
Increased likelihood of accidents
Impaired judgment and risky sexual behavior
Habitual heavy drinking can lead to:
Damage to brain cells
Personality disorders
Increased risk of cirrhosis, ulcers, heart disease, heart attack and cancers of the liver, mouth, throat and stomach
Alcoholism
Hallucinations
Health risks associated with the use of illegal drugs:
Increased susceptibility to disease due to a less efficient immune system
Increased likelihood of accidents
Anemia
Poor concentration
Addiction
Death by overdose
Resources
Hood College Health Services
Hood College Maintains a Drug-Free Campus
Amanda Rzepkowski, Director of Wellness 
Thurmond Maynard, Director of Campus Safety
Hood College continues to maintain a drug-free campus in compliance with county, state and federal regulations. The College has recently completed a biennial review that discusses the strategies and policies in place to maintain a campus free of drugs and abuse of illegal substances. 
A state-mandated strategy to maintain a drug-free campus requires all public schools and institutions of higher education to begin stocking the drug Naloxone, more commonly known by its prescription name Narcan, and training staff on how to administer it. The Heroin and Opioid Education and Community Action Act of 2017, or the Start Talking Maryland Act, sets several requirements for schools in response to the continuing rise in opioid-related overdose deaths across the state.
The new bill includes a clause that exempts school nurses and other personnel from personal liability while responding to an emergency and the state's Good Samaritan law protects anyone who seeks or provides medical attention during an overdose.
Campus Safety and Health Center staff have been trained by Frederick County Behavioral Health Services to administer Naloxone (Narcan).
Naloxone (Narcan) is kept in stock by Campus Safety and the Health Center.
A policy and procedure for the administration of Naloxone (Narcan) has been developed.
Opioid overdose awareness information will be provided to incoming students during orientation.
The Director of Campus Safety (Chair) and the Director of Wellness (Co-chair) serve on the Drug & Alcohol Prevention Committee. If you are interested in joining the committee, please email the Director of Campus Safety at maynard@hood.edu.
What you can do to help: 
Be Informed. Attend free Overdose Response training offered virtually at 1 p.m. every Friday by Frederick County Behavioral Health Services. Learn about how to join a free, virtual training here. 

Telephone: (301) 600-3274.

Report Harassment. At Hood, our ombudsperson provides a confidential information channel for assistance with harassment and discrimination issues, with resolving conflicts, and with other ethical problems and dilemmas, independent of College administrative and academic structures.
Are you ready to say Hello?
Choose a Pathway
Information will vary based on program level. Select a path to find the information you're looking for!