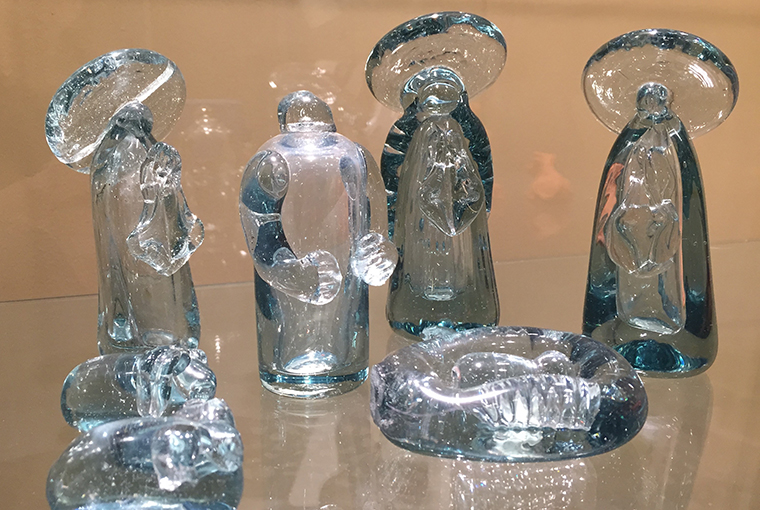 FREDERICK, Maryland— Approximately 100 crèches from around the world will be on display Dec. 1 through Jan. 7 in the Beneficial-Hodson Library at Hood College.
The annual exhibit is a tradition at Hood, which began when Beulah Munshower Sommer, Class of 1944, donated a portion of her extensive crèche collection to the College.  She began collecting nativity scenes as a child and continued collecting them throughout her adult life as a world traveler.
She inspired a dear friend, the Rev. Richard Kukowski, who began a collection of his own and donated it to Hood College as well. Since the Beneficial-Hodson Library started the annual exhibit in 1999, others have added to the collection with donations of their own. One of the attractions of this crèche display has been the diversity of styles, cultures and artistry represented. Additions to the collection are welcome.
The exhibit will be open during the library's regular business hours, which are available online at www.hood.edu/library. This year, the exhibit will be part of Frederick County's annual "Museums by Candlelight" event Dec. 8, when the library will be open from 8 a.m. to 7 p.m.
For more details about the event, visit www.visitfrederick.org/events. For more information about the exhibit, contact Mary Atwell at 301-696-3873 or atwell@hood.edu.
Media Contact
Tommy Riggs
Assistant Director of Marketing and Communications
Events
Art Exhibits
Community Partnerships
Traditions