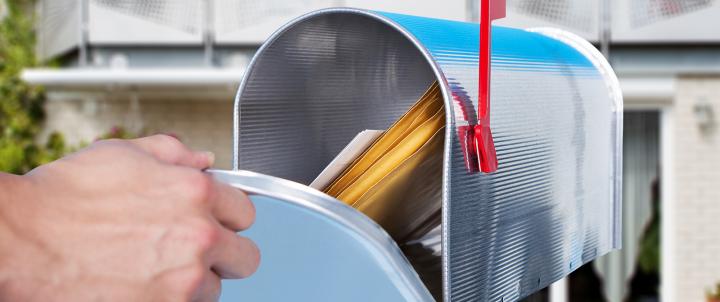 Send promotional materials straight to your customers with our Direct Mail services. That's right—we print AND ship postcards, brochures and more. Print@Hood makes the process fast, efficient and affordable.
We offer full-service convenience to help boost your business. Skip the post office and let us do the work for you. Print@Hood is your one-stop shop for printing and mailing.
Direct Mail Services
Mail list processing

Presorting and USPS documentation

Inkjet setup/addressing

Delivery to post office
With Print@Hood, getting your mail campaign off the ground is easy! Just send in your design, submit or rent a mailing list, and we can do the rest!

Our print and mail services include:
Printing
Tabbing if needed
Processing one mailing list
Presorting and USPS documentation
Inkjet setup/addressing
Delivery to post office
Direct mail printing and mailing services are available for postcards, brochures, letter mailers and multi-part mailers
Q: Is there a minimum order to qualify for your print and mail services?
A: A minimum of 500 prints is required for any presort postage discounts. We can mail smaller projects at a full first class rate

Q: Do you provide mailing lists?
A: Yes. You can rent a one-time use residential or commercial mailing list for an additional cost. The price for renting a mailing list is based on your order quantity and whether you want a residential or commercial list.

Q: How long does your print and mail services take?
A: Mailing deadlines can vary from project to project. Typical turn is approximately 5-7 business days from proof approval. Fully paid postage is also required before we drop to the post office.
We'll help you choose the right class depending on your budget and desired delivery time. First-class mail typically arrives to its destination within 2-5 business days. Standard mail delivers within 7-10 business days, though it can take up to 20. Please note: standard mail time is not guaranteed by USPS. Business days are Monday-Friday (excluding federal holidays).
Orders under 250 pieces are typically shipped first class. Orders more than 250 are typically shipped standard presort. We can also offer first class presort shipping for orders of more than 500 pieces. As always, we will work with you to find the best option for your needs.
Minimums for bulk mail
Before you mail in bulk, you need to meet the minimums for whichever type of mail you want to send:
50 pieces for Parcel Post®
200 pieces for Marketing Mail® (formerly Standard Mail)
300 pieces for Presorted Bound Printed Matter
500 pieces for Presorted First-Class Mail®
500 pieces for Presorted Library Mail®
500 pieces for Presorted Media Mail® (formerly Special Standard Mail)
Large postcards (standard sizes up to 6 x 11" or custom trim sizes up to 6.125 x 11.5") and folded brochures (standard sizes up to 6 x 10.5") can be delivered via first class or standard mail.
Postage for catalogs or booklets varies based on weight, which is measured by paper stock, page count and page size. For more information or to receive an estimate on shipping catalogs or booklets, please contact us.
Once you upload your mailing list, we will process it according to your specifications and enter the amount due, which will display on your My Account page. Postage may be paid via credit card, business check, money order, or cashier's check. An additional 5% fee will be added for any credit card payments for postage. 
Print@Hood gives you the flexibility to provide your own mailing list or utilize our own database. We can create a custom mailing list based on your target audience. Call today for a free quote.
Contact Print@Hood at 301-696-3119 or print@hood.edu
Are you ready to say Hello?
Choose a Pathway
Information will vary based on program level. Select a path to find the information you're looking for!