Our Vision
With compassion, we meet students where they are and encourage them to do their best.
Our Mission
The Office of Residence Life brings students and housing together in a safe and comfortable living environment.  Our staff provide services and learning experiences beyond the classroom to promote educational, social, and personal growth, as well as manage the judicial affairs for residential and commuter students.
Our Core Values
•Direct Communication:  We encourage everyone to respectfully dial-direct.
•Emotional Intelligence:  Increasing self-efficacy through learning opportunities based on empathy, self-awareness, motivation, social skills, and self-regulation.
•Resource Referral:  We're generalists who refer students to appropriate experts to fulfill their purpose.
•Personal Relationships:  We get to know each other, and we care.
•Diversity and Inclusion:  Celebrating the wide-range of differences in the human experience, such as race, ethnicity, gender, sexual orientation, abilities, religion, and thought. We emphasize civil discourse in a community where all must be able to feel they belong.
•Leadership:  Robust opportunities to strengthen skills, get involved, and be in service to others.
Our Staff
In addition to the professional staff listed below, 26 current undergraduate students serve as resident assistants to carry carry out the office's purpose.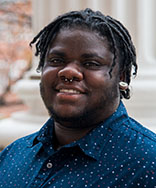 Email: taylor@hood.edu
Phone: 301-696-3936 
Office: Whitaker Campus Center, Student Life Suite, Room 228 
Areas responsible for: Meyran Hall, Coblentz Hall, and Duplexes
Pronouns: he/him/his
Schedule a meeting at: https://calendly.com/l-taylor-
Biography
LaShawn Taylor was heavily involved as a student leader during his undergraduate years at Shepherd University. After completing his bachelor's degree in English with a creative writing concentration and a minor in communications and new media, LaShawn entered the College Student Development and Administration master's program at Shepherd University.  He served there as a hall director, mentoring and being a resource for residents and student leaders.  During LaShawn's time at Hood, he works to help students reach their full potential so that they can be successful in reaching their goals.  Some of LaShawn's hobbies include playing with his dog Tinker, writing, painting, and pretending to sing.  He is also a huge fan of the Washington Redskins and enjoys acting.
Education
M.S., Shepherd University
B.A., Shepherd University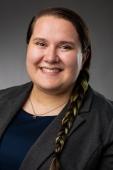 Email: vanwychen@hood.edu
Phone: 301-696-3966
Office: Whitaker Campus Center, Student Life Suite, Room 229
Areas responsible for: Memorial Hall and the new residence hall
Pronouns: she/her/hers
Schedule a meeting at: https://calendly.com/vanwychen
Biography
Becky VanWychen became heavily involved within residence life during her undergraduate years when she served as resident assistant and in leadership roles within the National Residence Hall Honorary and Residence Hall Association. After completing her bachelor's degree in Dairy Science and Pre-Veterinarian Medicine, she completely shifted her life goals by deciding to pursue a career in higher education student affairs. This decision took her Arkansas, where she pursued a Master's degree in College Student Personnel while working in residence life. During this time, Becky really found her purpose supporting students in all their endeavors and mentoring them along the path to success. Becky hopes to continue this while serving as area coordinator at Hood College. In her free time, Becky loves to take her dog, Stark, on nice long walks, play video games, and run her youtube channel. 
Education
M.S., Arkansas Tech University
B.S., University of Wisconsin-River Falls
Are you ready to say Hello?
Choose a Pathway
Information will vary based on program level. Select a path to find the information you're looking for!