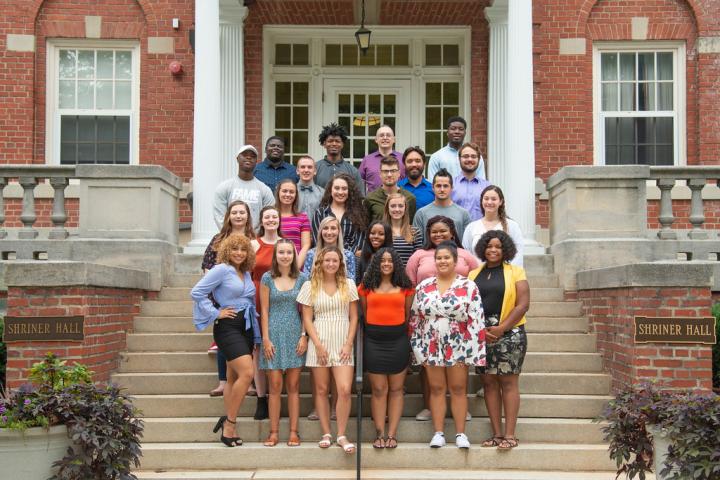 Learn more about the Resident Assistant (RA) employment hiring process here. Also, come to one of the information sessions in Blazer Hall Classroom 112 to learn more on either Tuesday, Oct. 19 from 1-2pm, Thursday, Oct. 21 from 1-2pm, Monday, Nov 1 from 7-8pm or Wednesday, Nov 1 from 7-8pm. Below is a summary of the RA hiring process stages with key dates.
It is important for you to understand the expectations and required skills of the RA position. Please read all of the information thoroughly. If you have questions about the hiring process after reading this information, please email residencelife@hood.edu.
Process:  For full consideration, you must meet deadlines and participate in all required hiring activities, completing an application on Pergola Connect and an individual interview. Incomplete applications, failure to meet deadlines, not meeting job description requirements, or failure to participate in required hiring activities will result in an applicant being removed from consideration.
STEP 1 - Mock Interview with Career Center:  To prepare you for your individual interview if you decide to apply, it is important to have some practice and helpful feedback. To assist, although it is not mandatory, we highly recommend you complete a Mock interview with the Career Center.  
Your mock interview appointment will need to be between now and 24 hours before your scheduled interview. To schedule an appointment, complete the following:
Go to the Hood College website and click on "Campus Community"

Click on "Career Center" and scroll to the middle of the Career Center page, find Handshake, and click on "Click here to get started!"

Click the "Sign-In with your e-mail."  Sign-in with the credentials you would use for your e-mail and blackboard access.

At the top right corner, click on "Career Center."

Within the drop-down selection, click "Appointments" and then "Schedule A New Appointment."

Choose the category titled "Interview Preparation and/or Mock Interview."

Choose the category again, titled "Interview Preparation and/or Mock Interview"

Find the date and time that works best for you! You will receive an e-mail confirmation when your appointment has been approved.  If you do not see a time that works for your schedule, or have any additional questions, e-mail Bre Harwood, harwood@hood.edu.
STEP 3 - Interview:  If you apply and meet all requirements, you can expect to be emailed no later than 5 p.m. on Friday, February 18th to schedule your individual interview, which will take place at a time selected between February 22nd - March 8th. You will be emailed a link to review possible interview appointments and select one which fits with your schedule. Interviews will be conducted by Residence Life staff members in their offices within the Student Life Suite on the second floor of Whitaker Campus Center.
Business casual

dress is required.

Bring a "self-portrait" item to this interview to break the ice. This could be one of many things including a picture album, memento, favorite song, item of clothing, or a favorite book. The purpose of bringing a self-portrait item is to be able to share a creative expression piece with the interviewers and explain the qualities you have that the item reflects. For instance, you might bring a rubber band because it is flexible and hard to break. We encourage candidates to relate the item to their personality and/or to the position.
Are you ready to say Hello?
Choose a Pathway
Information will vary based on program level. Select a path to find the information you're looking for!