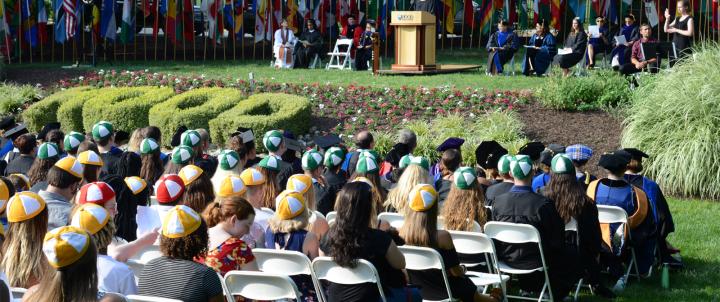 Summer Orientation, Advising & Registration (SOAR) sessions--Summer 2022
Welcome to Hood College's Summer Orientation, Advising and Registration (SOAR)!
Here are the next steps for new fall 2022 undergraduate students.
Step 1: Register for one Virtual Advising Day (see dropdown below)
This is a one-hour, virtual event held over Zoom where each student will meet with a faculty advisor and register for courses online in Self-Service.
Step 2: Register for one SOAR at Hood: On-Campus Orientation Experience (see dropdown below)
Visit campus for SOAR at Hood: a one-day, on-campus summer orientation experience where you'll meet faculty and staff, get to know peer mentors, learn next steps for enrollment, get your campus ID, tour campus and a sample residence hall room, and connect with resources across campus. Family/parents will have a tailored SOAR at Hood schedule as well!
Step 3: Placement Testing
Placement scores are needed in advance of advising to help ensure you enroll in the correct classes. To complete your placement tests, log into the "New Student Advising and Placement" site in Blackboard using your new Hood email and password you received by email from Admission after submitting your enrollment deposit. If you need assistance with you Hood email, please let us know.
Test results are generally available within several days to a week after completion and are visible to students under Reports, Placements on the homepage of self-service. Individual results will not be emailed to students but will be discussed during your advising session. 
For questions regarding placement testing or SOAR, contact the Student Success Center at studentsuccess@hood.edu. Students requesting accommodations may contact Accessibility Services, at accessibilityservices@hood.edu . 
Register for one Virtual Advising Day, and one SOAR at Hood event below:
Virtual Advising Days, summer 2022 
PLEASE NOTE: You will be assigned a one-hour virtual advising appointment time which will fall within the hours of 1 to 5 p.m. The appointment time as well as the Zoom link will be emailed to you no later than three days prior to your advising day.
First-Year Students SELECT ONE
Wednesday, June 15 
Wednesday, June 22 
Thursday, June 23 
Transfer Students 
Tuesday, June 14 
SOAR at Hood: On-Campus Orientation Experience, summer 2022 
PLEASE NOTE: Every SOAR at Hood event is 9:30am until 4:30pm. Light breakfast and a full lunch will be provided and family members are welcome to attend.
First-Year Students SELECT ONE
Tuesday, June 21 
Monday, June 27 
Thursday, June 30 
Transfer Students SELECT ONE
Thursday, June 16 
Are you ready to say Hello?
Choose a Pathway
Information will vary based on program level. Select a path to find the information you're looking for!