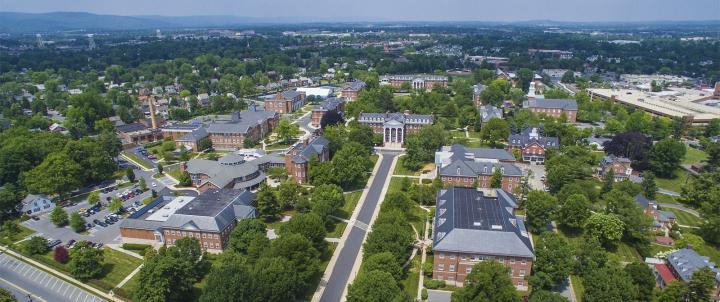 The Graduate School provides several opportunities for prospective students to meet with faculty and staff to learn how Hood's graduate programs prepare students to go further in their lives, in their careers and in their communities. Once enrolled, new students are invited to orientations that introduce them to the campus, student amenities and faculty.
Individual Visits
The Graduate School staff is available to meet with individuals to discuss educational plans and options. Schedule an appointment or email us at GoFurther@Hood.edu. The Graduate School is located on the 3rd floor of the Apple Resource Center, which is adjacent to the Whitaker Campus Center. You can view the campus map to locate these lots. Appointments are available on most days from 8:30 am to 4:30 pm.
Parking on Campus
Three campus parking lots are reserved for visitors: Whitaker Campus Center, Hodson Drive and Chapel. Visitors who are on campus for an open house or an appointment and plan to park in one of these lots, should print out the visitor parking pass and display it in their front windshield. You can view the campus map to locate these lots.
Doctoral Information Session
The current students and faculty of Hood College's Doctorate of Organizational Leadership and Doctorate of Business Administration programs will be holding an information session on May 11th from 11:00 a.m. to 1:00 p.m. in the Beneficial Hodson Library Reading Porch, 2nd Floor.  If you have considered a doctoral degree, our application is now open. This event will give prospective doctoral students:
An overview of the programs,
The opportunity to speak to our current doctoral students,
Time to engage with faculty,
A rundown of the application process.
Register for Saturday May 11th
Open House
Saturday, June 29th, 2019 from 9:00 AM to 11:00 AM EDT

Come to Whitaker Campus Center Commons for the opportunity to:
Talk with faculty and staff about your professional aspirations
Learn how Hood College can help you achieve your goals
Tell us how you can contribute to our learning community
Apply for on-the-spot admission for certain programs (bring your resume and transcript)
Click here to register for this June Graduate Open House event.
Are you ready to go further?