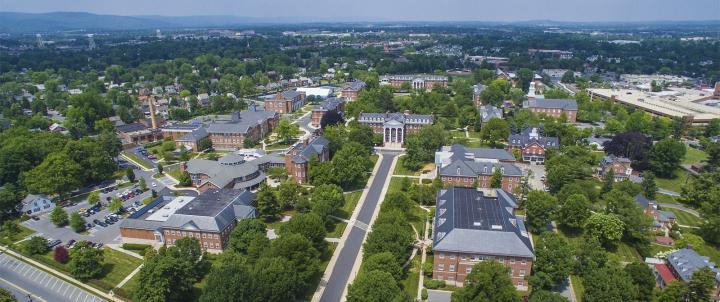 The Graduate School provides several opportunities for prospective students to meet with faculty and staff to learn how Hood's graduate programs prepare students to go further in their lives, in their careers and in their communities. Once enrolled, new students are invited to orientations that introduce them to the campus, student amenities and faculty.
Individual Visits
The Graduate School staff is available to meet with individuals to discuss educational plans and options. Schedule an appointment or email us at GoFurther@Hood.edu. The Graduate School is located on the 3rd floor of the Apple Resource Center, which is adjacent to the Whitaker Campus Center. You can view the campus map to locate these lots. Appointments are available on most days from 8:30 am to 4:30 pm.
Parking on Campus
Three campus parking lots are reserved for visitors: Whitaker Campus Center, Hodson Drive and Chapel. Visitors who are on campus for an open house or an appointment and plan to park in one of these lots, should print out the visitor parking pass and display it in their front windshield. You can view the campus map to locate these lots.
Doctoral Information Sessions
The Graduate School at Hood College will host information sessions on its career-advancing doctoral program on Feb. 20 in the Tatum Arts Center, Room 206 and again on February 26th in the Tatum Arts Center, Room 121I. Both sessions take place from 5:30 p.m. to 7 p.m. 
Hood's doctoral program is a three-year cohort experience—unique in Maryland—and offers a choice of two degrees: a Doctorate in Organizational Leadership and a Doctorate in Business Administration.
These degrees have been developed in consultation with area businesses and organizations. They offer practical application, top-tier faculty with scholarly and real-world experience, small classes and schedules to accommodate working professionals. This doctoral program is designed specifically to prepare mid-career professionals to transform their organizations—and their communities—responsibly and sustainably for the future.
This event will give prospective doctoral students:
An overview of both programs,
The opportunity to speak to our current doctoral students,
Time to engage with faculty,
A rundown of the application process.
Register for February 20, 2020 at 5:30 p.m. / Register for February 26, 2020 at 5:30 p.m.
Graduate School Open House Sessions
Tuesday, March 31, 2020 | two sessions to choose from offered at noon and 4:30 p.m. EDT

Come to Whitaker Campus Center Commons for the opportunity to:
Talk with graduate faculty and staff about your professional aspirations

Learn about Hood College graduate programs

Get a campus tour

Apply for on-the-spot admission for certain programs (bring your resume and transcript)
Click here to register for the noon session
Click here to register for the 4:30 p.m. session
 
Graduate School Admission Cafe Webinars
Tuesday, April 14, 2020 - two webinars to choose from offered 12:15 p.m. to 12:55 p.m. EDT and 7:15 p.m. to 7:55 p.m.
Hood College's Graduate School hosts a series of Admission Cafés—live, free virtual webinars—for our Graduate School degree offerings. These online presentations enable prospective students to learn about the Hood College Graduate School and specific programs of interest—conveniently from home or work.
The upcoming free webinar will provide a great opportunity to engage directly with the Hood graduate admissions team, and learn about the full range of our graduate programs including STEM degrees, MBA, education, counseling/thanatology, human behavior, ceramic arts and humanities. New online programs in IT and Cybersecurity will also be discussed.
Click here to register for the 12:15 p.m. webinar
Click here to register for the 7:15 p.m. webinar
Are you ready to go further?