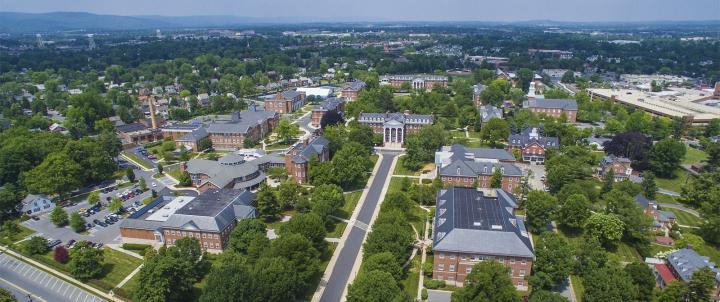 The Graduate School provides several opportunities for prospective students to meet with faculty and staff to learn how Hood's graduate programs prepare students to go further in their lives, in their careers and in their communities.
Graduate School Virtual Open House Events
Wednesday, October 21, 2020 | Two sessions to choose from (12 PM or  5:30 PM EDT) 

Learn how The Graduate School at Hood College can help your career "go further." Join us to: 
Meet with program faculty 

Discuss our academic offerings 

Ask questions about funding your degree
Click here to register for the 12:00 PM session 
Click here to register for the 5:30 PM session 
Tuesday, November 17, 2020 | from 12:15 P.M. to 12:55 P.M EDT

The Graduate School at Hood College will be hosting a lunchtime Admission Café interactive webinar from 12:15 P.M. to 12:55 P.M. This free webinar will enable you to learn about the Hood Graduate School and your specific programs of interest – conveniently from home or work during the lunch hour!

This will be a great opportunity to engage directly with the Hood graduate admissions team and current grad students, ask questions about financing options and learn about the full range of our graduate programs including STEM degrees, MBA, education, counseling/thanatology, social sciences and arts/humanities. Online programs in IT and Cybersecurity will also be discussed.
Click here to register for the 12:15 p.m. Admission Cafe webinar
 
Graduate School Fall 2020 Business Hours
Regular Business Hours | Monday - Friday from 8:30 a.m. to 5:00 p.m.
Extended Business Hours | Tuesdays and Wednesdays from 5:00 p.m. to 7:00 p.m.
* To chat with a team member during our extended hours, dial our on-call line: 240-651-4015  
COVID-19 Update
Due to COVID-19, it is with the utmost concern for the health and well-being of our students, faculty, staff and community at-large that we announce changes to our visits and events starting fall 2020.
Beginning, August 3, 2020 prospective graduate students wishing to visit campus must complete an online appointment scheduler form to schedule an appointment.
Graduate School appointments may be conducted virtually and in person. 

In-person visitors will be required to provide their own masks and wear them during the entire visit. Visitors not having a mask will be provided one. Refusal to wear a mask indoors will result in denial of services.

All pre-scheduled, in-person visitors will be directed to arrive at the Graduate School on the third floor of the Apple Building. They will be greeted at the front door at that location by a Graduate School member. 

Visitors may meet with the Graduate School team member at that location and begin the campus tour from that location.

In the case of early arrival, the visitor will be asked to wait outside the Graduate School. 

Drop-in visitors may arrive at the Graduate School. Exterior signs will alert visitors that they must be wearing a mask during their visit. They will be instructed to knock on the door (as the door may be locked). Once masks are in place, a staff member will welcome them into the office. Arrangements will be made to accommodate their interests (materials, tour, etc.), as possible. 
Click here for a complete list of COVID-19 updates at Hood College.
Are you ready to go further?