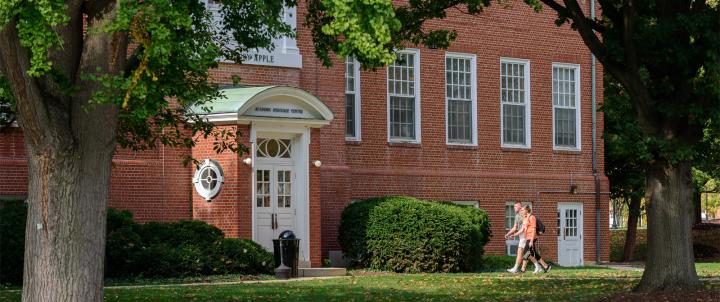 The Graduate School at Hood College offers educational opportunities both inside and outside the classroom for all students — whether attending part time or full time, or working toward career advancement or an entirely new profession.
The Graduate School provides special grants and financial support to students who wish to pursue special research and creative arts projects as part of their degree program. Funding can be used for travel or to purchase equipment and supplies. 
Graduate Workships and Assistantships
Hood College offers a number of graduate assistantships that provide tuition and stipends for teaching and/or research assistance. Workships that provide partial tuition remission are available in academics, athletics and student life. 
The Community Foundation of Frederick County
The Community Foundation of Frederick County is committed to helping students who are pursuing a post-secondary education. Some scholarships are available to those enrolled or planning to enroll in graduate programs. For more information, visit the Community Foundation website.
In addition to full-time biomedical research opportunities, the NIH provides career development opportunities for all summer interns, including workshops, courses, journal clubs and access to the OITE Career Services Center. You can join our diverse community of more than 5,000 trainees for great science and outstanding career development resources. The program accepts high school, undergraduate, graduate and professional (medical/dental/pharmacy/nursing, etc.) school students in biomedical, social science, behavioral and computational fields. 
SIP includes several subprograms designed to help build a diverse and inclusive scientific workforce. PLEASE NOTE: Although you use the online SIP application to apply for all these subprograms, eligibility criteria, application deadlines, and program curricula vary (view a program comparison chart). Please read each program's description carefully to decide which, if any, will best fit your needs. If you apply to one of these programs, you must submit your application before the subprogram deadline AND contact your references to let them know the deadline for receipt of their letters.
Curricular Practical Training (CPT – Internships for F-1 Students)
Many international (F-1) students are interested in internships (or CPT). There are a number of resources for securing such an opportunity after the F-1 student has completed his/her first year of coursework. 
Many students opt to pursue internships with businesses; federal, state and local agencies; and nonprofit organizations in the Frederick, Baltimore and Washington, D.C., vicinities. Learn more about the internships completed by Hood graduate students on the individual program pages.
Are you ready to go further?