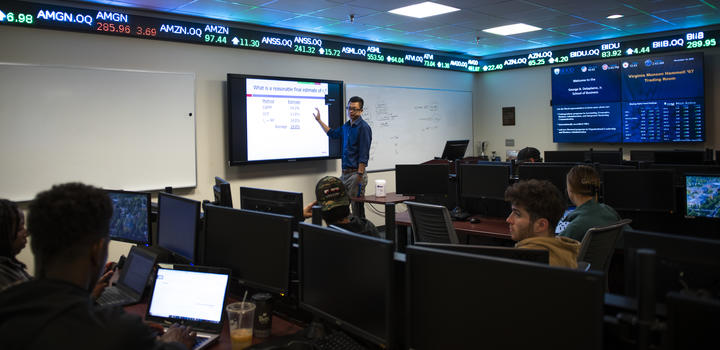 Step into the world of finance and experience the Virginia Munson Hammell '67 Trading Room, a cutting-edge addition to Hood College's academic facilities, constructed within Rosenstock Hall during the summer of 2015. Embodying the vision of the College's business administration department, this state-of-the-art trading room provides an immersive space for students to simulate real-world experiences in the dynamic realm of financial markets, securities trading, and portfolio management.
Equipped with advanced technology and analytical tools reminiscent of Wall Street, the trading room features trading stations, a live stock quote ticker, and powerful financial investment software. Generously funded through a lead gift from distinguished alumna Virginia Munson Hammell '67, along with contributions from Janet Hobbs Cotton '59 and her husband John, Susan Edmiston '87, Robert Hooper, Neal Wilson, and Frederick County Bank, this exceptional facility empowers students with the tools they need to thrive in the fast-paced world of finance.
The Virginia Munson Hammell '67 Trading Room serves as a catalyst for students' professional growth, fostering invaluable experiences and skill development. At the core of its significance lies the "Blazing Alpha Fund", which offers students the chance to actively manage investment portfolios, honing their financial acumen while making real investment decisions. As we look towards the future, this remarkable trading room is poised to play a pivotal role in the development of a finance major, further enriching the academic landscape at Hood College.
Beyond its direct impact on students, the trading room reaches out to the larger community. It serves as a hub for collaborative learning and engagement, where classes can explore the intricacies of finance in a practical setting. Through community outreach programs, students have the opportunity to apply their knowledge and expertise to benefit the local and regional financial ecosystem.
Are you ready to say Hello?
Choose a Pathway
Information will vary based on program level. Select a path to find the information you're looking for!