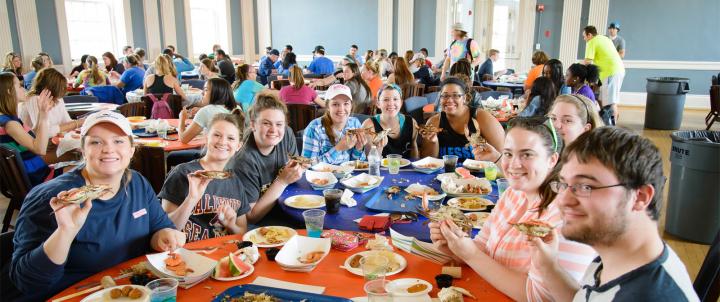 Students have three on-campus options for grabbing a bite to eat -- The Blazer in the Whitaker Campus Center, the main dining hall in Coblentz Hall and the cafe in library.
The Blazer and library cafe serve to help busy students on the go. Whether you want to grab a cup of coffee, pre-made sandwich or salad, or snack at the cafe, or something from the grill or a flatbread at the Blazer, you've got options as you rush between classes and activities.
Coblentz offers a more traditional dining hall experience and more options, including pizza, salad bar, soup, pasta bar, grill options and the chef's feature "made to order" items, as well as special events like holiday dinner, late-night breakfast and crab feast. And don't forget a campus favorite—the soft-serve ice cream machine.
For more information, visit our official pages:
Are you ready to say Hello?
Choose a Pathway
Information will vary based on program level. Select a path to find the information you're looking for!