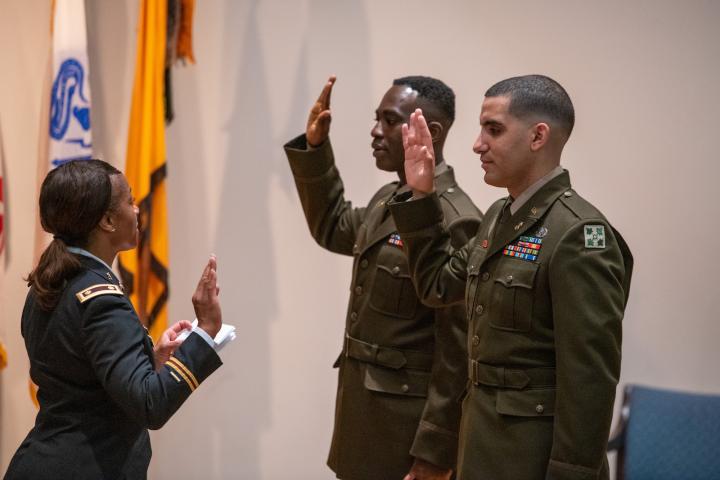 How can Army ROTC benefit me?


 
Army ROTC will add to your successes during college, during your military career, and when you enter the civilian world. As a cadet in our program, you will gain skills that will prepare you to be a successful leader in every aspect. These skills will be quite beneficial and will impressive on a resume. All these things are nice, but the opportunity to serve your country is one of the most honorable choices a man or woman could make.
Army ROTC may also pay for your college as well as provide a monthly stipend which will help you with everyday costs.
After graduation, a Cadet commissions as a Second Lieutenant in the United States Army as either an active duty, Army Reserve or Army National Guard officer. Cadets will commission into one of the 16 basic Army officer branches:
The U.S. Army Reserve Officers' Training Corps (ROTC) program is offered at Hood College in partnership with the military science department at McDaniel College in Westminster, Maryland. Upon graduation, ROTC cadets commission as Army officers with the rank of second lieutenant and either serve on active duty, in the Army Reserve or with the National Guard.
Hood's smaller size facilitates a richer interaction with other cadre, cadets and undergraduate faculty, as well as ROTC faculty, consisting of Army active-duty officers ranging in rank from lieutenant colonel to sergeant first class. You'll take part in weekend field training exercises, as well as annual events, such as the ranger team challenge competition and the Army formal.
Fully funded merit scholarships are available, as well as a stipend paid during the fall and spring semesters; a book allowance is also available for all scholarship cadets.
Program Information
Email: rotc@hood.edu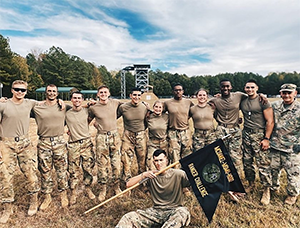 The Hood College Army ROTC program has been a part of campus life since 2008. Although fairly new to the school, this unit has served continuously as an integral part of the college and is responsible for producing some of the most highly trained Army Officers leading American Soldiers during periods of peace, times of war, and in response to natural disaster.
In 1973 female Cadets were admitted to Army ROTC programs across the country and now comprise about 12 percent of the Green Terror Battalion. The Battalion is formed of Cadets from these separate campuses, the host school McDaniel College, partner schools Mount St. Mary's University, and Hood College. Although the Battalion is spread amongst these three campuses, there is a strong camaraderie between the Cadets when they come together for classes as well as training events. Highlights of the program include our Ranger Challenge team, rappelling, field training exercises (FTX), Color Guard, competitive intramural teams, and the annual dining out. 
The Green Terror Battalion has been a part of McDaniel College since 1919 and is one of the oldest programs in the nation. Through this program, both men and women are commissioned as Army officers with the rank of Second Lieutenant upon graduation. Students can be guaranteed service as an officer with the Army reserve, Army national Guard or service full-time with the Active Army. No major is offered in this field, however. Military Science can be an integral part of a student-designed major or minor and/or an elective for any major. The courses are designed to develop the leadership ability of each student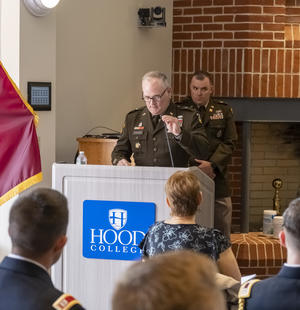 Basic Courses: 
Military Science Year I (MSI)
Military Science Year II (MSII).
Advance Courses: 
 Military Science Year III (MSIII)
Military Science Year IV (MSIV)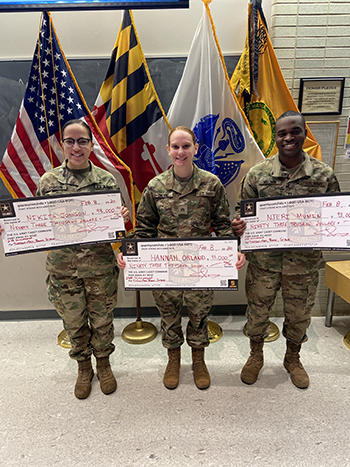 The Army ROTC program affords young men and women the opportunity to help pay for college. The various scholarship opportunities available are highly competitive. 
National ROTC Scholarship 
Awarded to High School seniors 

Apply online before January 10th of senior year 
Campus-Based ROTC Scholarship 
Offered once on campus

Range from 2, 3, and 4 year scholarship amounts 

Merit Based

Guaranteed Reserve Forces Duty Scholarship (GRFD) 

Dedicated Army National Guard Scholarship (2 and 3 year scholarship amounts 

Contract in the Army National Guard or Army Reserve 
Contracting Cadet Forms 

Enrolling Cadet Forms 

Medical Forms 

Other Cadet Forms 
Are you ready to say Hello?
Choose a Pathway
Information will vary based on program level. Select a path to find the information you're looking for!