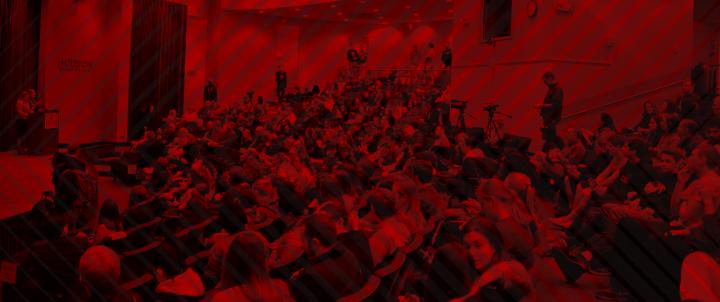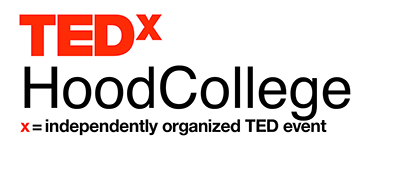 Welcome to TEDxHoodCollege!
Live Event: April 8, 2022, 5 p.m., Hodson Auditorium of Rosenstock Hall on the Hood College campus
The mission of the TED organization is to spread ideas worth sharing and to give speakers a venue to voice innovative and thought-provoking concepts. The end goal of this international effort is to gather curious individuals and to stimulate dialog about issues in ways that help communities, both large and small, imagine and co-create their futures.
At TEDx events, TED talk videos and live speakers combine to spark deep discussion and connection. In this spirit, TEDx is a program of local, self-organized events that bring people together to share a TED-like experience. These events are branded "TEDx," with the x representing these gatherings' unique, local, and independently organized focus. At the core of all TEDx events are the featured speakers. They deliver a series of memorable and engaging 18-minute talks to a live audience of 100 individuals and to streamed audiences in remote locations.
About TEDxHoodCollege:
TEDxHoodCollege is inviting people from our community to experience and learn about various subjects, including science, technology, business, the arts, and global issues. The event is hosted by Hood College, a small liberal arts college at the foot of the picturesque Catoctin Mountains in historic Frederick, Maryland. The college's mission is to provide educational experiences that empower students, alumni, and community members to use their hearts, minds, and hands to meet personal, professional, and global challenges. The TEDxHoodCollege team aims to bring forth these ideals by creating, organizing, and executing an engaging and meaningful evening for people to share their ideas and to hear the voices of diverse individuals from the Frederick area.
TEDxHoodCollege will take place on Friday, April 8, 2022, beginning at 5 p.m. in the Hodson Auditorium of Rosenstock Hall on the Hood College campus located at 401 Rosemont Avenue, Frederick, Maryland.
Nominations of speakers are now being accepted. Click  below to view our registration form.  The deadline for submitting a nomination is Friday, November 26, 2021.
Would you like to be a volunteer for the TEDxHoodCollege event? Click below to see our volunteer application.
TEDxHoodCollege is now accepting speaker nominations for its first independently organized TEDx event to be held Friday, April 8, 2022, on the college's campus in Frederick, MD. In the spirit of TED's mission, "ideas worth spreading," TEDx was created to help local communities, organizations, and individuals spark conversation and connection.
TEDxHoodCollege speakers will be selected through a highly curated process by a select team that considers ideas, speaker styles, and the flow of the day. We will measure applications by the power of the concept and whether the TEDxHoodCollege platform can help propel that idea forward. Please read the application instructions thoroughly before submitting. For more information, email TEDxHoodCollege@hood.edu or call 301-696-3583.
Are you interested in joining one of our event committees and being a part of TEDxHoodCollege 2022? Fill out the application below. Please note, there are a limited number of volunteer opportunities available. Please fill out your form completely so that we may be in touch with you.
We are looking for dedicated individuals to help make TEDxHoodCollege a successful and exciting evening for speakers and audience members. We need people interested in marketing, audio/visual technology, event planning/logistics, and guest services.
Join our enthusiastic all-volunteer crew of Hood College's finest thinkers and idea spreaders.
Have a question, comment, or concern about TEDxHoodCollege? You can email us at TEDxHoodCollege@hood.edu or call 301-696-3583.
If you're working on a news story about our event, please remember that TEDxHoodCollege is not a TED event but is, instead, an openly TED licensed, independently organized event that uses a TED-like format.
The correct way to write our name is "TEDxHoodCollege." Notice the "x" is lowercase, and the event name is written as one word. As we are an independent event organized by our local community, it would be incorrect to write "TED is coming to Hood College" or "TED is coming to Frederick, MD."
Are you ready to say Hello?
Choose a Pathway
Information will vary based on program level. Select a path to find the information you're looking for!