2021 Charles E. Tressler Distinguished Teacher Award Winner | Donna Lehman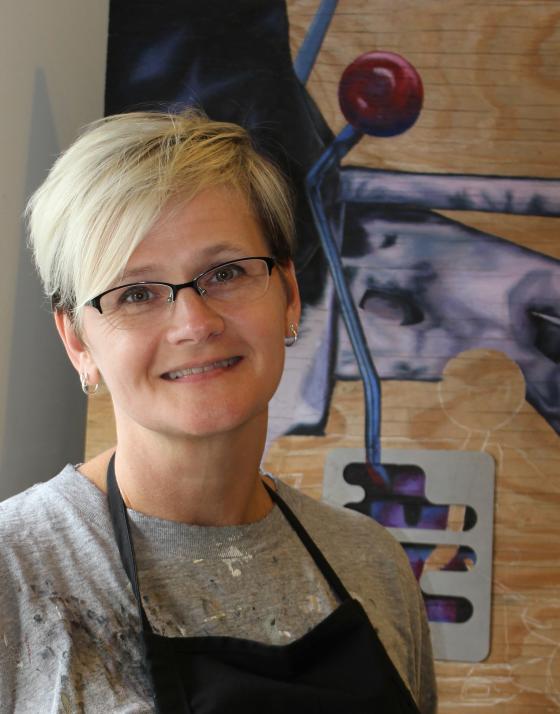 The 2021 Charles E. Tressler Distinguished Teacher Award was presented to Donna Lehman.
Donna Lehman | Tressler Distinguished Teacher Awardee
Department
Art & Archaeology
Education
Each year, Hood College joins with Frederick County Public Schools in presenting the Charles E. Tressler Distinguished Teacher Award. This award is made possible through a gift from the estate of Sam Eig, a longtime supporter of Hood College, whose daughter-in-law, Jackie, served on our faculty for a number of years. The award honors distinguished teaching in the Frederick County Public School System and recognizes the influence of a teacher on the lives of young people. That influence and the impact on the teaching profession was something that Mr. Eig felt strongly about, and it is at the heart of the mission of Hood College. It is fitting that this award is named after Charles Tressler, who himself influenced so many young people to enter the profession of teaching. Professor Tressler was the Giles Professor Emeritus of Early Childhood Education, and he was a member of the Hood faculty from 1964 to 1990. This year, we are honored to present the 29th annual Charles E. Tressler award to Donna Lehman.

Donna is currently a visual arts teacher at Middletown High School, where she has been teaching for more than 20 years. At Middletown High School, she sponsored an art club, started the National Art Honor Society Chapter, and has served as the Visual and Performing Arts Department Chair since 2016. Donna grew up in Brunswick, Maryland and currently lives in Hagerstown, Maryland with her husband and two children.
 
Congratulations on receiving the Charles E. Tressler Distinguished Teacher Award! Describe the award process and what the award means to you.
My principal Bernard Quesada nominated me. It was wonderful to just be nominated for such a distinguished award. I found out that I received the award in late April. It was a surprise in the media center of my school by our superintendent Dr. Alban, my principal Mr. Quesada, our art department, and my family. It was a very emotional moment.
This award means so much because myself and my colleagues work hard for our students and do not expect any accolades for it. It is so unexpected when someone acknowledges our work and says that I see you and what you're doing for our students. To be recognized for having a positive impact on my students just feels amazing. Some of my colleagues knew Professor Tressler and shared personal insight into how inspiring he was to them. I feel humbled to be awarded this honor that bears his name.
As a teacher, do you have a certain mindset, theory, or teaching style?
I approach teaching in a collaborative manner with my students and always try to maintain a positive attitude. I treat students the way I would want to be treated in a class. I also want them to learn art concepts and techniques, how to critique, and how to take critique, but mostly, I hope that I have taught them in some small way to be good people.
Any other information that you would like to share from your career in teaching?
I did think of one story to share this year. At my school we hired a new art teacher and he is my former student Collin McCann. I was overjoyed that he would be joining the art department and he has been a perfect fit for our department. Once it was announced that I was awarded the Tressler Award, Collin came to my classroom that afternoon and shared with me that I really inspired him to be an art teacher. It really meant so much hearing that from my former student and current colleague.
Mostly, I'd like to recognize some people who have helped me become the teacher I am today. First of all, my parents, Robert and Shirley Ward, really taught me what was important in life. Mary Ryan Reeves '70, who I learned so much from student-teaching under her, I really model my teaching style after hers. Jonathon Parker from Gov. Thomas Johnson Middle School who was a wonderful mentor in my first few years and he taught me to always keep my sense of humor as a teacher. In addition, my former colleague and department chair at Middletown High School, Chyril Ayotte, her hard work and calm and quiet leadership taught me even more about the kind of teacher I aspire to be.  Artistically, I'd like to thank former professors, Katya Dovgan and Sonya Evanisko--both guided and helped me discover my own artistic voice.
Inspired by Donna's story to #GOFURTHER in your educational & career pursuits? Learn more about Hood College's graduate programs, including education programs, by clicking here.
Are you ready to say Hello?
Choose a Pathway
Information will vary based on program level. Select a path to find the information you're looking for!