Abbey McAlister '19 Presented Research on the Transgender Experience in the Military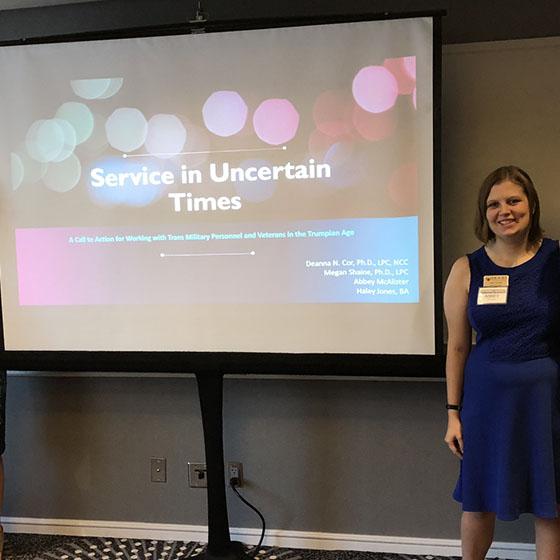 At a recent conference, senior Abbey McAlister presented research about the transgender experience in the military
Abbey McAlister
Graduation Year
Program
Department
Abbey McAlister, a senior psychology major, was given the opportunity to participate and present at the ALGBTIC Conference (Association of Lesbian, Gay, Bisexual, Transgender Issues in Counseling), which works to present on the LGBTQ community and its issues.
Megan Doughty Shaine, assistant professor of psychology and counseling, accompanied McAlister to the conference where they both presented on transgender veteran experiences in counseling for mental health both inside and outside the military.
McAlister wanted to pursue this topic because of President Trump's ban of transgender military members. President Trump imposed the transgender plan in 2017; in January of this year, the Supreme Court ruled a 5-4 decision to uphold this ban, sparking a controversy.
"The intersections of being transgender and a veteran have serious implications for mental health," said McAlister. "On the same note, this topic of being transgender and in the military has become a political debate of sorts, and we wanted to get honest accounts of those veterans who went through their transitions before, during or after their service to see how their experiences differed."
McAlister was able to gain valuable experience with presenting, researching and connecting with other presenters at the seminar.
"During the conference, I was able to see what other people were researching on similar topics, as well as speak in front of a group and answer questions," said McAlister. "I learned that I actually like researching, and I hope to participate in more conferences soon. We hope to publish our findings in a journal in the upcoming months and advocate for these populations in the counseling setting."
Are you ready to say Hello?
Choose a Pathway
Information will vary based on program level. Select a path to find the information you're looking for!