Alumna Working on Anti-Cancer Therapies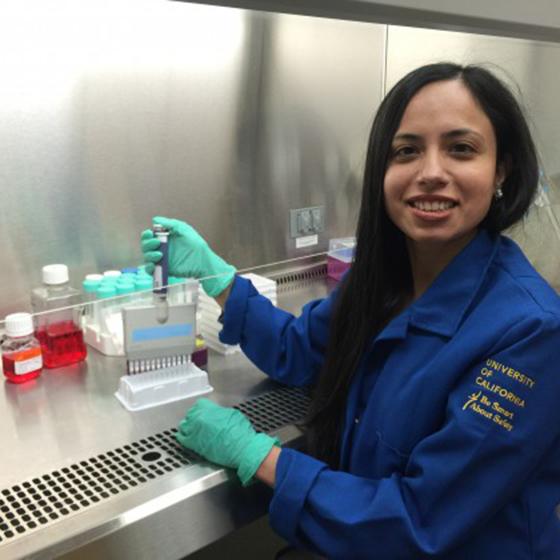 Alumna Vivi Tolani has spent years researching drug therapies to fight lung cancer.
Bhairavi "Vivi" Tolani
Graduation Year
Program
Biochemistry (B.A.)
Biomedical Science (M.S.)
Department
Biology
Chemistry & Physics
Lung cancer is the deadliest form of the disease, claiming approximately 158,000 American lives and accounting for around 27 percent of all cancer deaths. One Hood College alumna is researching drug therapies to fight it.
Bhairavi "Vivi" Tolani is working with a three-person group studying anti-cancer targeted therapies for lung cancer. They are trying to find ways to shut down the rapid growth of the cancerous cells through a variety of drug combinations.
Tolani graduated from Hood in 2004 with a bachelor's degree in biochemistry. During the next three years, she worked at Invitrogen Life Technologies, Lonza Corp. and Digene (now Qiagen), all Frederick biotechnology companies. During that time, she also took graduate classes at Hood, completing her master's degree in biomedical science in 2007. She worked four 10-hour days, Monday through Thursday, and took evening classes for her master's degree. Friday through Sunday, she worked on her thesis research project on breast cancer at the National Cancer Institute.
"I got to experience all aspects—biotech, academia and government research— simultaneously," Tolani said.
Following her master's degree, Tolani was accepted to the doctoral program in molecular biology at the University of Southern California, Los Angeles. She researched hematological malignancies (cancers that begin in the cells of blood-forming tissues) for six years there. She then completed six months of postdoctoral training at the Stanford Research Institute in Menlo Park studying ovarian cancer, and conducted postdoctoral research at the University of California, San Francisco (UCSF) studying lung cancer.
After a year at UCSF, she was promoted to assistant adjunct professor in a lab studying lung cancer. She works in the lab, mentoring students and technicians of all levels, and she researches lung cancer with her team.
"In particular, we study cellular growth signaling pathways, which, when overactive, prompt cells to grow, divide uncontrollably and become cancerous," Tolani said. "In an effort to shut down these growth signals, we work on both biologics and small molecule chemical inhibitors as anti-cancer therapies. We also investigate combination therapies—employing lower doses of two or more drugs whose combined effect is greater than either drug alone. This allows the use of lower doses of the drugs, fewer side effects for patients and less drug resistance over longer periods."
Tolani credits Hood's excellent science faculty, high academic standards and small class sizes as being instrumental for her successes in academia and cancer research.
"Not only was the quality of teaching excellent, but also, the investment and concern of the faculty in ensuring student success is magnified when class size is small," she said. "Further, with smaller lab sections, students had a chance for hands-on experience with scientific techniques that my peers in graduate school who went to larger universities never had."
In addition to the learning environment, Tolani chose Hood because she wanted a well-rounded, liberal arts education and because the College's proximity to the National Cancer Institute at Fort Detrick was beneficial to her desire to work with cancer therapies.
For more information, visit tolanilab.ucsf.edu.
Are you ready to say Hello?
Choose a Pathway
Information will vary based on program level. Select a path to find the information you're looking for!