Alumni Spotlight | Melissa J. Muntz '12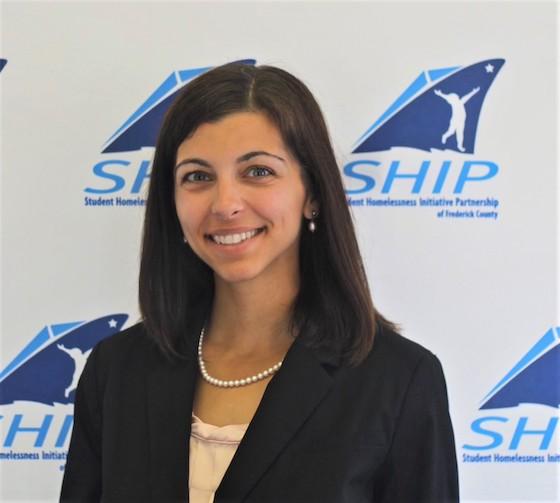 As the newly appointed executive director of the Student Homelessness Initiative Partnership of Frederick County (SHIP), Melissa Joseph Muntz '12 is serving some of the most vulnerable members of our community.
Executive Director of SHIP
Graduation Year
For Melissa Joseph Muntz '12, helping other people has been more than a career—it's a way of life. Her recent appointment as executive director of the Student Homelessness Initiative Partnership of Frederick County (SHIP) is the culmination of many years in public service. That trajectory began right here at Hood College.
A Pennsylvania native, Muntz moved to Frederick after being admitted to Hood and quickly fell in love with the area. "This institution really had an emphasis on public service and community involvement, and you could see that at every level," reflects Muntz. "It wasn't just the students. It was the professors; it was the staff. This really made an impression on me when I was looking at schools. I wanted to be in a place where that type of work and that type of outside outreach matters."
As a double major in law and society and French, Muntz was deeply involved with student life. Taking an interest in politics, she joined the Maryland Student Legislature and later won Best Senator during her senior year. She also served as president of the Hood College Service Association, where she spearheaded community engagement projects. A major breakthrough for Muntz was accepting an internship at the Maryland State Senate, which ultimately turned into a job after graduation.
Muntz wasted no time cutting her teeth in the state legislature. One of her proudest achievements was drafting a bill that provided tax breaks for AmeriCorps VISTA workers. Rising through the ranks, Muntz eventually became director of outreach for Congressman (now Senator) Chris Van Hollen. She believes part of her success comes from the well-rounded, liberal arts education that remains a cornerstone of Hood's programming. "I feel like I gained so much outside of my designated career field. When you go into the real world, you need a little bit of everything. You need skills from all different disciplines."
Eventually Muntz transitioned from the political sphere into public relations and marketing. This led to her joining the team at SHIP. She began working as director of development and outreach before transitioning to her current role as executive director in 2021. "Our main goal is to remove the barriers that young people are facing when they are experiencing homelessness in getting to their next step," Muntz says. "Whether that be graduating from high school, further education or getting a job."
The hard truth is that even children are not immune from housing insecurity. As of July 2021, there were more than 846 young people experiencing homelessness in Frederick County Public Schools. If that number comes as a shock, it's probably due to longstanding stereotypes about what it means to be homeless. "This is a problem that a lot of people hear about and go, 'Oh, that's in Baltimore or D.C. We don't have that here in Frederick.' Or when people hear 'homelessness' they think of someone sleeping in the park or lying on the sidewalk," Muntz explains. "We want people to know that this is an issue that needs attention. It is one we're working hard on, but we can't do what we do without community support."
SHIP has made a tremendous effort to implement a variety of programs designed to address the specific needs of individuals. Students who enroll in the New Horizons program, for instance, are assigned a case manager to set and work towards certain goals for the school year. "It takes young people who are struggling to achieve that graduation and helps them to get there. Students who don't graduate from high school are three and a half times more likely to become homeless adults," says Muntz. "It's very important that they get that high school diploma."
In addition to providing material support in the form of food, toiletries, clothing and other essentials, SHIP also works to secure temporary housing for homeless youths. Another key component of SHIP's mission is outreach. Closing the communication gap and letting people know it's okay to ask for help is an important step in ending the cycle of homelessness.
Muntz hopes she can motivate young people to realize the true value of education. "Understanding and being able to navigate the resources in our community is a huge part of what we do. I think the average young person has no clue how much is out there to help," she notes. "We see a lot of young people struggling to meet their basic needs, so they're not thinking into the future and the benefit of going out of the way to stay in school."
SHIP's impact extends beyond high school graduation. They go as far as assisting college students—including some here at Hood—with financial aid and housing arrangements. Another post-grad element is the Youth Action Board, which is composed of students who have successfully completed the New Horizons program. During weekly meetings, they develop additional life skills and career planning strategies. Continuing to actively participate with SHIP in this way allows their voices and experiences to further shape and guide the organization.
Despite the daunting challenges of combatting homelessness, Muntz remains optimistic that society is moving in the right direction. She attributes much of the progress SHIP has made to staying flexible and treating people's unique needs. "Creative problem solving and an individualized approach are so valuable because that's how you get results. You need to meet everyone where they are. I feel like we've done that, and we can continue to do that," Muntz says. "There's a lot of work to still be done, but it's been a great experience and I'm proud of the work that SHIP has accomplished."
For those who wish to get involved with SHIP, Muntz suggests visiting the official website for more information. Donations are always welcome, especially school supplies and hygiene products. One of the best ways to help is simply spreading the word. The more people know about the resources that SHIP provides, the easier it will be for students in need to utilize them.
Looking back on her time at Hood College, Muntz is grateful for the many opportunities it provided. One of her most valuable takeaways has been the connections she forged both in and outside the classroom. Her advice to current Blazers? Don't shy away from networking. "Maintain those connections. Work to cultivate those relationships in the industry and the places you want to be," she suggests. "And don't be afraid to think outside the box. I came here thinking I was going to be a lawyer. I'm so glad that didn't work out!"
Are you ready to say Hello?
Choose a Pathway
Information will vary based on program level. Select a path to find the information you're looking for!