Ana Filipovic Windsor '16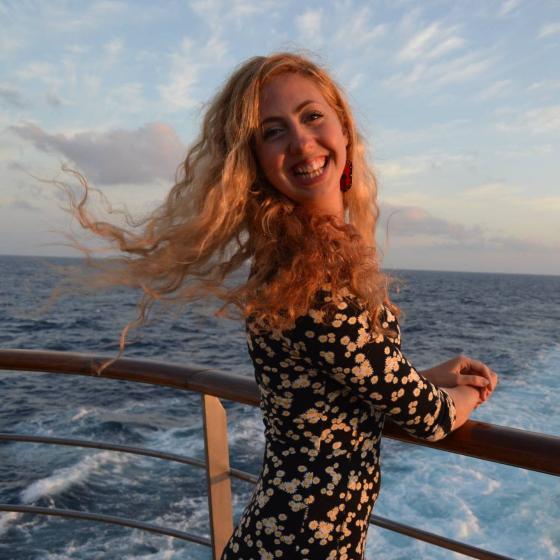 Ana Filipovic Windsor '16
B.A. Business Administration and Economics; Study abroad: Semester at Sea
Graduation Year
Tell us why you chose to attend Hood? Was there a particular moment when you knew Hood was where you wanted to pursue your bachelor's degree?
I took a gap year before going to college so I had time to pick a school that will truly match my goals. Hood was a small school, situated close to large cities with job and internship opportunities, with excellent resources on and off campus. Being an international student, I consulted with fellow United World College (UWC) graduates who went to Hood and they all had wonderful things to say about their experience. Stepping on campus for the first time that very hot and humid summer of 2012, I knew I made the right choice of moving across the ocean and coming to this very part of the US.
When did you know that you wanted to make a study abroad experience part of your Hood career? How did you decide upon the Semester at Sea as your global academic program?
When I first heard about Semester at Sea (SAS), I couldn't believe such a program exists. I immediately started adjusting my schedule, talking to my professors and advisor, and reaching out to SAS to find out about scholarships and figure out how I could make this a part of my educational experience. As a business student, I wanted to incorporate as much hands-on learning into my education as possible. Travelling the world while taking classes relevant to the countries we were visiting seemed like an amazing opportunity to explore and further my knowledge about the world.
Tell us about your life "at sea"; what was the most challenging part of your experience? What did you find most rewarding?
I truly loved my time at sea. It was such a unique experience. The most challenging part was balancing schoolwork with a hectic travelling schedule, where you're switching cultures, climates, and time zones every few days. But there were so many rewarding moments! From seeing sunrises and sunsets in the middle of an ocean, to meeting lifelong friends of all backgrounds, and approaching countries via their ports, it all just felt magical.
What countries did you visit on your SAS? How would you describe the academic culture you experienced?
I attended SAS in the spring of 2015 and visited China, Japan, Hong Kong, Vietnam, Cambodia, Singapore, India, Myanmar, Mauritius, South Africa, Namibia, Morocco, and the UK. The academic culture on the ship is very curious. Students, professors, and staff are all willing to share their experiences, ask questions, start conversations, and learn from one another.
What was your most favorite, non-academic experience you had during your Semester at Sea?
My favorite, non-academic experience was visiting Cambodia and Myanmar. Both countries had fairly little influence from the western world at the time and it was fascinating exploring their cultures.
Lastly, what advice would you give current Hood students who are considering a Semester at Sea study abroad experience?
I'm not sure how often in life you'd get a chance to travel a great portion of the world in one semester. Many students continue their travels after debarking, especially if they go during a spring semester. SAS is an amazing opportunity for students who can't pick just one country for studying abroad and who want a truly unique academic experience.
Are you ready to say Hello?
Choose a Pathway
Information will vary based on program level. Select a path to find the information you're looking for!