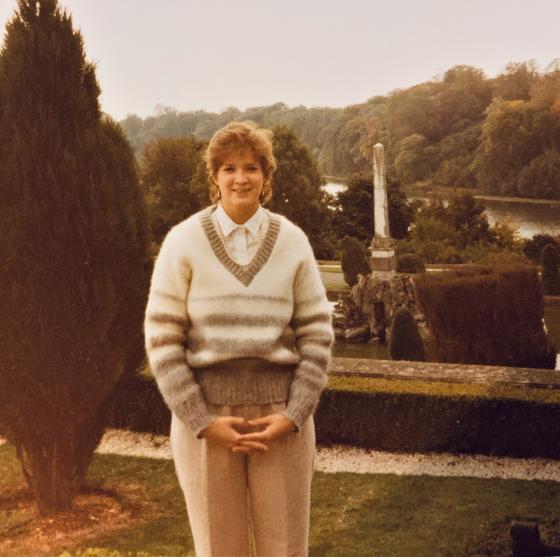 B.A. Management and Communications; Study abroad: London, England
Graduation Year
Tell us why you chose to attend Hood?  Was there a particular moment when you knew Hood was where you wanted to pursue your bachelor's degree?
A guidance counselor at school first introduced me to Hood College and I was intrigued. I liked the idea of being farther away from home, which was Longmeadow, MA at the time.  I got on campus and I fell in love; it was just so beautiful! Although I didn't know what to major in, I liked the variety of majors plus I could play lacrosse.  I was sold.
When did you know that you wanted to make a study abroad experience part of your Hood career? How did you decide upon England as your academic destination?
When I graduated from high school I knew I wanted to spend a semester abroad. Since I love the British Royal Family the decision to spend it in London was easy.
Tell us about your life in London; what was the most challenging part of your experience? What did you find most rewarding?
I remember on the first day of classes trying to find my Economics class. I went to the wrong classroom in the wrong building. I remember being very embarrassed asking the professor to confirm the course title, unfortunately not the course name on my schedule. He went back to his lecture. I ran out of the classroom to hunt for the correct classroom.  I got over that quickly. Aside from the classroom mix up I don't remember any other drama. I embraced it all.
How would you compare your university experiences between the United States and the United Kingdom? What are some advantages and disadvantages of the two academic cultures?
The experiences were completely different. At Hood I lived on campus and had meals prepared for me in the Dining Room. I knew or knew of most people on campus, a very controlled environment.
In England I attended the City of London Polytechnic. There was no defined campus, my classes were all over the city. In fact, my Art History class met at The National Gallery, the Tate Gallery or the Victoria and Albert Museum! Housing was in the South Kensington area of London, down the street from Harrods. Plus, I mastered "The Tube", London's underground system. Definitely something I never did on Hood's campus.
What was your most favorite, non-academic experience you had in the United Kingdom?
There were so many cool experiences. I got an awesome photo of the Queen on Remembrance Day, November 11. I saw so many historical sights with my own eyes, not on TV, but what made me proud is when tourist stopped to asked me for directions. I was fully engrained in the lifestyle.
Lastly, what advice would you give current Hood students who are considering a study abroad experience in England?
GO FOR IT!  Dive in headfirst. There is so much history, art and pop culture to explore.  Live in an international city. You will return home more confident and you will never regret it.
Thank you for including me in this project. It was wonderful to relive the memories.
Are you ready to say Hello?
Choose a Pathway
Information will vary based on program level. Select a path to find the information you're looking for!