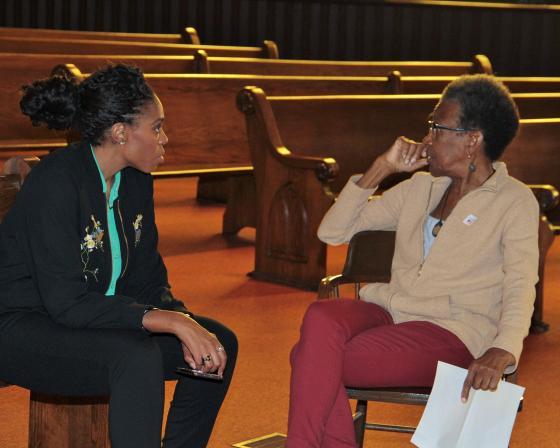 Finance and Project Manager, Alabama African American Civil Rights Heritage Sites Consortium
Graduation Year
Program
Department
Pictured left to right: Athena Richardson'13; Georgette Norman, Historian with the  Alabama African American Civil Rights Heritage Sites Consortium. Photo courtesy of David Thomas.
Tell us why you chose to attend Hood? Was there a particular moment when you knew Hood was where you wanted to pursue your bachelor's degree?
I took some time off after graduating high school, and when I decided to pursue a bachelor's degree the choice was between Hood and an out-of-state school. The deciding factor was the Adult Studies program that allowed non-traditional students to take classes at a discounted rate part time
What prompted you to pursue a degree in History? Did you have a specific related career or job in mind when you chose this major?
To be honest, being a history major was never on my radar. I've always enjoyed history, but never thought about it as a career.  I took a class with Dr. Emilie Amt as an elective while pursuing another major that ended up not being a good fit. My advisor suggested I major in history based on my grade and experience in Dr. Amt's class. I did not have a career in mind but was willing to give it a try. The following semester was a complete 180! I went from dreading my classes to enjoying them. When the National Museum of African American History and Culture held its groundbreaking in 2012, that was when I began to investigate careers in the museum field.
Did you have a particular professor, course, or campus experience that had an impact on your undergraduate and post-graduate success?
Minoring in African American studies was the difference maker for me. Shout out to Dr. Tamelyn Tucker-Worgs who recruited me into the program! The interdisciplinary approached helped to broaden the way I looked at history, which impacted my research style and topics of interest. The most impactful course was "African American Feminist Thought", because it was the first time I saw myself, and my experiences, reflected in an academic setting
With this familiarity, it made pursuing a Master of Arts in American Studies at The University of Alabama (Roll Tide!) an easy decision.
What project with the Consortium would you consider to be your greatest success or source of pride?
While there are many, our "Voices of Alabama" oral history is a source of pride because phase one of the project was my first project to plan and execute with the Consortium. I will be speaking about Voices of Alabama with my colleague and interviewee, Joyce O'Neal on Wednesday February 17th at Hood (virtually)! I hope you'll be able to join us.
If you could go back and give advice to Hood Student Athena, what would that be, and why?
Keep going. Yes, it's a challenge commuting, class work, and working, but it will all pay off, even better than you are imagining.
One last question! What does "Hood is Home" mean to you?
I think about the hours spent in Hodson Library, and Whittaker between classes, and how even though I did not live on campus, it still feels like home.
Are you ready to say Hello?
Choose a Pathway
Information will vary based on program level. Select a path to find the information you're looking for!