Biomedical Science student applies classroom knowledge to vaccine development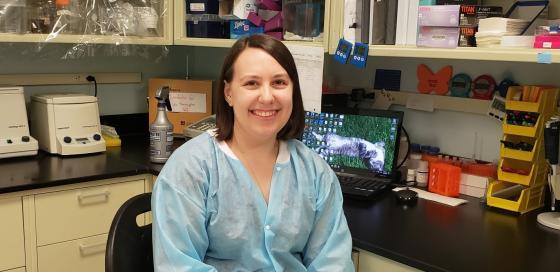 After Rachel Sklutuis earned her associate degree, and then bachelor of science in biology, Rachel decided to further her education by enrolling to Hood College's Biomedical Science program.
Rachel Sklutuis
Program
Biomedical Science (M.S.)
Department
Rachel says she was interested in the program at Hood because it is tailored to working professionals and would allow her to take classes while continuing to work full time. 
Being a part of a small biomedical company, Rachel's job requires her to have a very good understanding of molecular biology. Besides providing the advanced classes in molecular biology, the program offers numerous other valuable options. "I was especially interested in courses that this program offers in recombinant DNA technology, virology, and immunology because these are all courses that relate to my job at Medigen where we develop vaccines", says Rachel.
Rachel really enjoyed her first semester at Hood, where she hopes to gain more knowledge to help her succeed in her current career. "I would like to take on more responsibility, and I believe that gaining a more in-depth knowledge of molecular biology will be a good asset", says Rachel. "I am impressed with the professors at Hood because they all not only have a passion for the subject, but also a love of teaching, which makes it easier and more enjoyable to learn", adds Rachel.
Rachel currently works as a research assistant at Medigen, a small biomedical company in Frederick. Medigen is working to develop vaccines for emerging diseases such as Dengue, Zika, Lassa, and Chikungunya. The company is also focusing on developing a universal flu vaccine for both seasonal and pandemic influenza that would protect against many strains of the influenza virus. 
We wish Rachel all the best the pursuit of her degree and future career endeavors!
Are you ready to say Hello?