Bringing the World to Hood | Hood Magazine Spring '23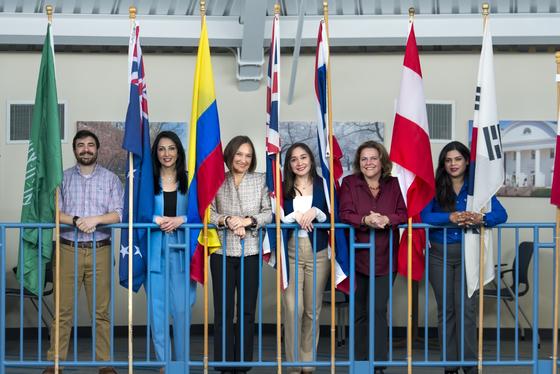 International graduate students are an integral part of the campus community.
Spotlight on international graduate students
With students from more than 20 different countries and counting, Hood College has become a microcosm of the world at large. In the Graduate School alone, there are more than 70 international students currently enrolled. Leaving home to study in a foreign country is never easy, so what attracts this diverse array of students to Hood? Besides popular programs like computer science and business, international students are drawn to Hood thanks to networking and "word of mouth" from alumni. When they arrive on campus, students are also met with exceptional support.
The Graduate School team is itself comprised of staff members from India, Palestine, France, Germany, Ecuador and the U.S., which helps foster connections with incoming international students. Amani Al-Dajane, MBA'20, director of international student services, is the chief point of contact for anyone joining the Hood community from abroad. As the principal designated school official (PDSO), she assists with visa requirements as well as practical matters like sharing resources to secure housing. Everything Al-Dajane does is geared to- ward making the transition as smooth as possible.
"We look to provide prompt customer service with good cross-cultural understanding, and that's what students say makes a difference when they choose Hood," says Al-Dajane. "We're warm and welcoming, so right away students feel like they're in a safe place."
Originally from Colombia, Gabby Güiza Enciso, M.S.'22, is currently pursuing a second master's degree at Hood. As president of the Graduate Student Association, she has worked closely with Al-Dajane as well as fellow international students.
"Amani is our greatest support. She knows what to do to solve our complex international community issues," says Güiza. "Amani supports us in all aspects and is always brainstorming new events to offer international students, so there is never a dull moment."
The majority of Hood's international graduate student population derives from India, Saudi Arabia and Nigeria. Others come from Iraq, Palestine, Thailand, China, France, Germany and elsewhere.
Part of the reason the graduate student body has become so diverse is a comprehensive outreach campaign that spans the globe. The Graduate School works closely with partner international student recruitment organizations, such as Apply- Board, to help with enrollment efforts. Graduate admission staff then use communication channels like WhatsApp to directly speak with prospective international applicants.
"We work hard to recruit strategically from a variety of regions," says Tanith Fowler Corsi, director of graduate admission. "We're looking broadly at students who can fit different types of programs, and we target regions where many of our overseas students hail from."
When they arrive at Hood, every international graduate student is required to attend an orientation, which not only familiarizes them with institutional policies but also helps them adjust to life in the United States. These students meet with staff at the Career Center to learn about intern- ships. They tour the Writing Center to get firsthand access to tutors who can help with their English. One of the most important aspects of orientation is the peer mentor program, where students are paired with upperclassmen.
"Students like to connect with other students who've been their shoes," says Al-Dajane. "Peer mentors can explain how to get on-campus jobs. They share their expertise and answer questions."
While international students thrive at Hood thanks in part to these resources, they give back to the College ten-fold by creating a vibrant campus life. In partnership with the Graduate School, these students host events to celebrate holidays like Diwali and Holi. Local students then get to experience traditional food, music, clothing and customs that they might otherwise have never witnessed.
Abdulaziz Nawar Aladdad, who is from Saudi Arabia and pursuing an M.S. in management information systems, believes Hood has allowed him to be his true self and push back against stereotypes. "Hood College is rich with students from most parts of the world," he says. "International students bring culture and different ways of thinking, and thus, new intellectual ideas are presented."
Güiza agrees that despite the challenges of navigating a new country and education system, the experience is ultimately rewarding. She encourages all members of the Hood community to attend the various cultural events on campus.
"We are excited to share our heritage with everyone," she says. "You can learn about our beautiful traditions and celebrate our differences—that's what makes the Hood College community great."
Al-Dajane, who can attest to what it's like being an international student, feels this exchange
of knowledge is mutually beneficial. Hood, like the nation itself, is a melting pot. Students can become more globally minded through these shared experiences. On the flip side, this has been a driving force in developing a study abroad option for American graduate students at Hood.
"Domestic students gain different perspectives and become more culturally competent," says Al-Dajane. "International students bring the world to Hood."
Pick up a copy of the latest issue of Hood Magazine on campus or view online.
Are you ready to say Hello?
Choose a Pathway
Information will vary based on program level. Select a path to find the information you're looking for!