Campus Tree Walk Tags Installed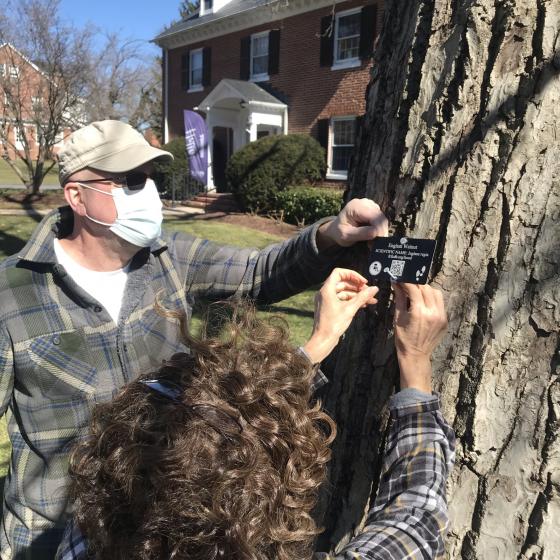 Informative tree tags were installed on 14 campus trees to guide visitors through our new campus tree walk.
Students, staff, and members of the community are encouraged to walk the campus ground on this digital self-guided tour.

Tree Walk Tree Tags Installed
In March, new tree tags were installed on select trees around campus as part of the new Hood College Tree Walk. The self-guided walk was organized by the Frederick County Forestry Board as and expansion to the Frederick City Tree Walk. There are currently 14 trees on the campus tree walk, highlighting unique and large tree species, including 4 specimens that are Maryland Big Tree Champions.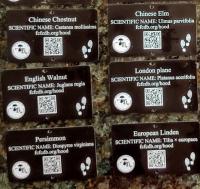 The new black rectangular tags contain the common and scientific name of the tree species, as well as a "QR code" that, when scanned with a smart device, will connect the user to information about the tree. Some campus trees still have visible older tree identification tags. For example, rectangular name tags were installed in 1979; while numbered metal circle tags were part of a 2007 tree inventory. 
The Hood College campus contains quite a diverse collection of tree species since its move to it current location in 1915, with species selection guided initially by Mrs. Gertrude Apple, the second wife of the College's First President. Learn more about the history of campus trees on our new Campus Tree website. Visitors are welcomed to walk the grounds of campus to take part in the Campus Tree Walk.  Visit the Forestry Board Tree Walk series website for more information.
Are you ready to say Hello?
Choose a Pathway
Information will vary based on program level. Select a path to find the information you're looking for!